Handrail & Balustrades Perth Handrail Australian Standards
Industrial Handrails and Balustrades supplied and installed by Team Work Fencing Contractors are designed to comply with the Building Code of Australia (BCA) 3.9.1 and 3.9.2, Volume 2 and Australian Standard 1170.1.
As a rule, to stop people from falling, a steel balustrade or metal handrails must be provided along any level of more than 1 metre above adjoining floor or finished ground level.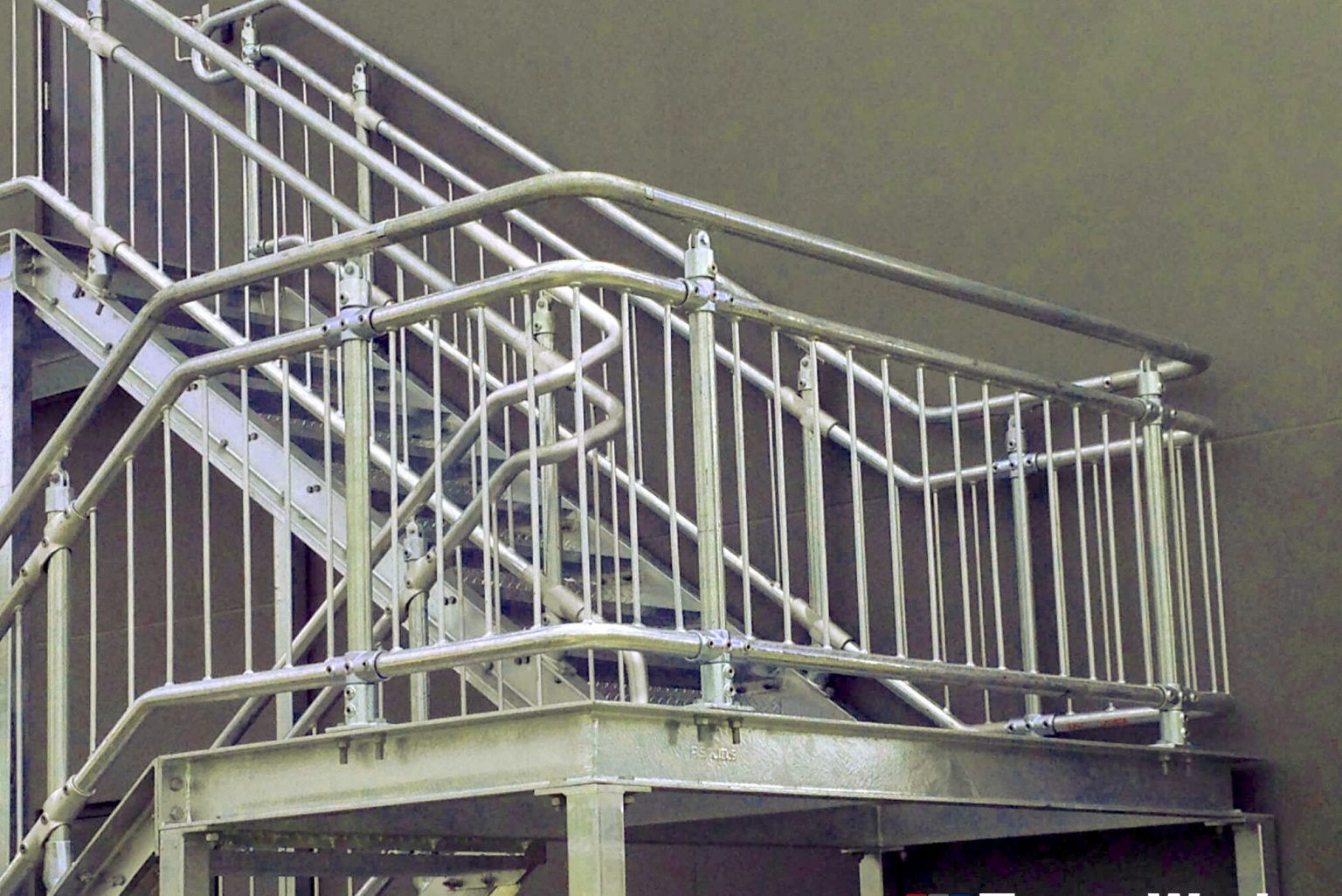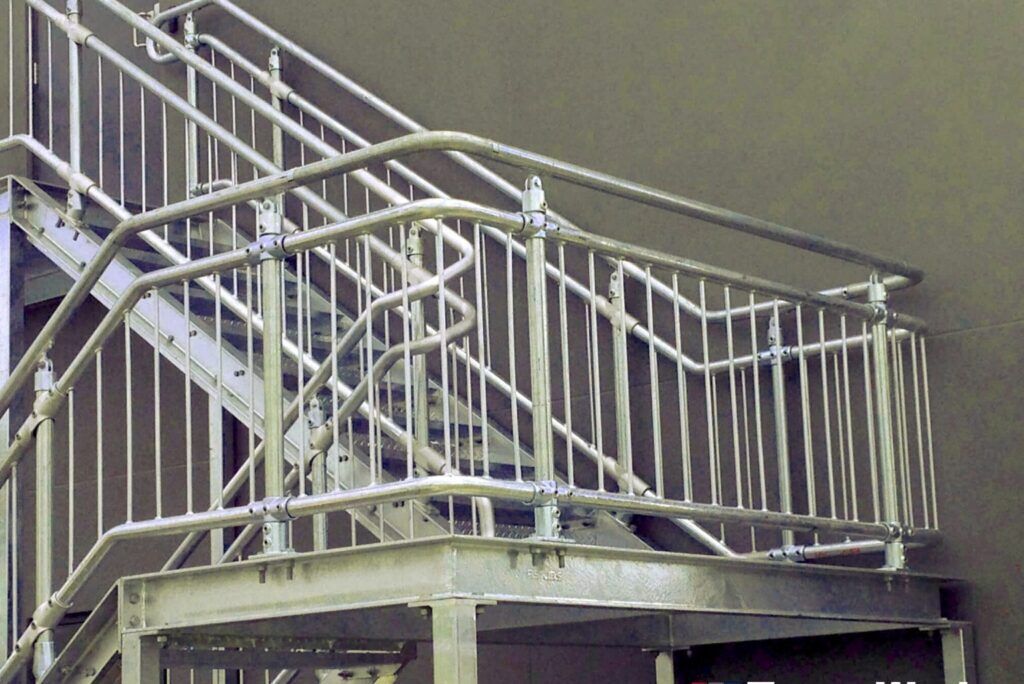 Galvanised Steel/ Tubular Handrail System
Team Work Fencing has a few different design options when it comes to industrial handrails and balustrade fencing. Industrial handrails can be tubular, solid or a combination of both. Balustrades are available in many options including basic double tubular handrails or a variety of infill panels designed to suit your specification and finish. Team Work Fencing also provide a speedy and efficient railing installation service.
Ball-Fence Handrail Balustrades
Handrails Perth is an industrial handrail system that Team Work Fencing can either concrete into the ground or use base plates to bolt down to the floor. The advantage with this type of modular barrier system is that there is a range of configurations that we can use for your factory, commercial or industrial premises.
Handrail Standard Dimensions
Post – N.B 40: 48.3mm Outside Diameter with 3.2 mm wall thickness.
Handrail – N.B 32: 42.4mm Outside Diameter with 3.2 mm wall thickness.
Kneerail – N.B 25: 33.7mm Outside Diameter with 3.2 mm wall thickness.
Handrail Height Australian Standards:
Finished Floor Level to Centre of Handrail 1017mm.
Finished Floor Level to Centre of Kneerail 560mm
Spacing: Max spacing between Ball-Fence posts is 2 metres (centre to centre)
Finish: Hot Dip Galvanised
Balustrade Gate options in Ball-Fence design
Ball-fence Single Gates can be installed to suite personal access with an opening up to 1500mm complete with a standard galvanised tubular hoop. Ball-fence double gates can be installed to suit a maximum opening of 3000mm. Ball-fence Gates are designed to be self-closing and can either come in plain galvanised steel or powder coated to colour of choice.
The Ball Fence conforms with the Australian Standard AS1657 and is a good option for barrier fencing.
Industrial Safety Railing & Barrier Systems
Pedestrian barriers and bikeway barriers can be installed using galvanised steel pipe and clamps designed specifically for safety along parking stations, railings for balconies, handrails for the disabled, stair railing, paths, floors, schools and walkways. Due to its design with clamps and fittings that require no welding, Team Work Fencing can custom make your industrial barrier to suit any requirements.
Barrier fencing in Perth can be transported and erected swiftly and can be built onsite to meet specifications. This type of tubular handrail system works out to be very economical and can be installed using hot dip galvanised steel or powder coated to colour of choice.
Industrial Handrail Gates Perth
Industrial Handrail Gates are specially designed to increase safety and security, especially for commercial establishments. Team Work Fencing commercial fences and gates are always in compliance with Australia Building Codes.
Handrail Gates can also be installed in public areas, such as car parks, shopping areas, parks, and pedestrian areas. Gate installation on public areas with foot traffic can prevent accidents and serve as crowd control.
Team Work Fencing offers industrial gates tailored to your existing or new fences, whether you're looking for handrail balustrade gates or self-closing ball-fence gates.
Team Work Fencing supplies and installs Fencing and Gates in Perth, Bunbury and South West.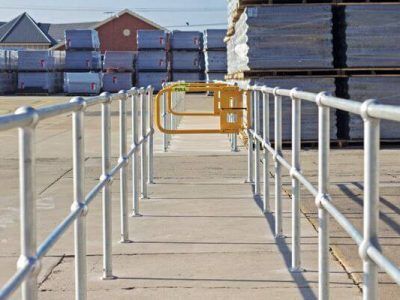 Modular handrail system designs are suitable for almost all types of applications in industrial, commercial, disability barriers and handrail constructions which comply with the handrail Australian Standards AS1657 and AS1428.
If there is an industrial handrail or commercial safety railing that you can't see on the website, please contact us and we'll see what we can do.
Click Here to View More Handrails and Balustrade Fence Products:
Suburbs We Service in Perth