Chain mesh cages? Chain wire storage cages? Car park storage solutions using chainmesh?
Yes to all of the above, and these are options well worth considering when you need to secure your properties and possessions in a practical, cost-effective manner.
Chainmesh is incredibly versatile. It's also durable and really easy to maintain. This has made it a popular choice among commercial and residential property owners in Perth.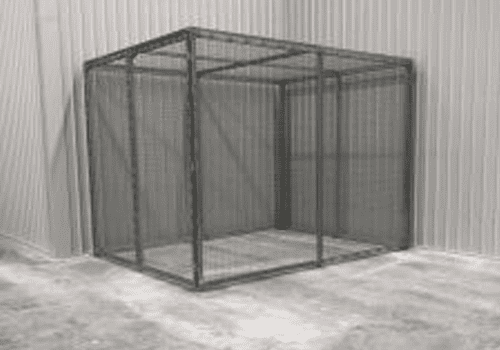 Chain Mesh Cages & Storage Cages
Chain mesh or chain wire cages are an excellent way to protect your property from theft, damage and tampering, especially in commercial and industrial settings.
Made using strong steel rails and galvanised chain mesh, the cages are commonly installed in warehouses, distribution centres and manufacturing facilities to store valuable tools and prevent access to expensive or dangerous machinery. Chain link storage cages are often used to secure high-end electrical equipment and external air-conditioning units.
Chainwire cages aren't just for securing machines and equipment, though. They are also used to build safe enclosures for animals, such as in boarding kennels and breeding catteries. Animal shelters use them, too. Chain mesh cages are convenient, durable and safe. They are typically fitted with hinged or sliding gates for easy entry and exit.
Car Park Storage Solutions
Need a reliable car park storage solution? Chainmesh may be ideal. Storage cages can custom-fitted to individual specifications to reduce costs, maximise space and protect your assets.
Schools use chain mesh fencing for storing kindergarten and school equipment. Private property owners have custom cages installed to open up their homes and de-clutter their living space. Retail stores in shopping centres utilise chainmesh cages to store signage, shop fittings and more securely in their underground carpark areas.
Chainmesh Cage for Storage
Speaking of underground parking areas, custom chain mesh cages make for effective bike storage and car park storage solutions, and chain wire partitions can be installed in basements to separate specific zones or provide secure and lockable storage facilities. These parking storage solutions come in all sizes and shapes to suit most requirements.
Chainmesh fencing is suitable for:
Commercial and personal storage
Restricted access areas
Factory, stockroom and warehouse partitions
Catteries, kennels and animal enclosures
Securing machines and services equipment
Bike storage and carpark storage
Above bonnet cages
Basement security enclosures
Click Here to View More Chain Link Fence Photos:
Want to learn more about chain mesh cages and car park storage solutions in Perth? Contact Team Work Fencing. Free, professional fencing advice is only a phone call away!
Suburbs We Service in Perth