Hamptons PVC Picket Fencing
Quality PVC Hamptons Fences for Perth Homes
The fresh, modern look of a PVC Hamptons fence makes a great addition to homes of various styles, whether you're in a classic bungalow, Federation home or something more contemporary. PVC is becoming one of our most popular fencing materials, loved by many homeowners for its strength, style, and durability.
This style is a three-rail system, with the first set of vertical pickets measuring 785mm high, sitting below an open top section with rail measuring up to 1030mm high.
We supply and install PVC Hamptons picket and privacy fencing to properties in Perth, Bunbury and the South West. Contact us for a quote or browse our DIY Hamptons-style fence panels online.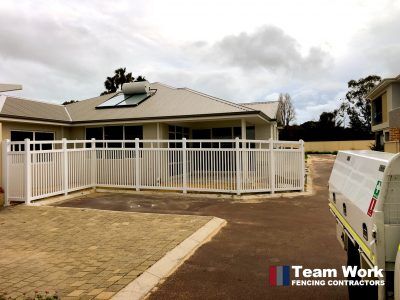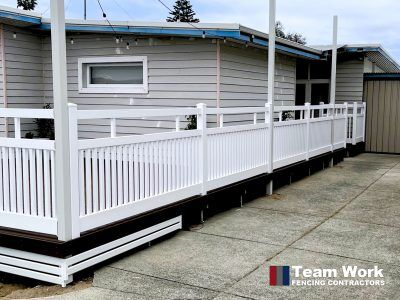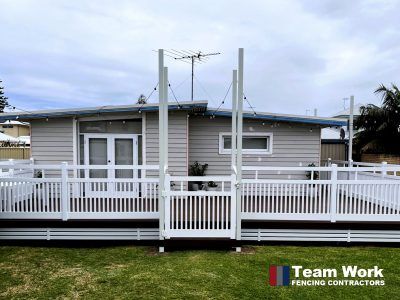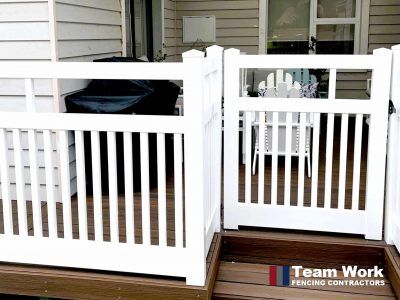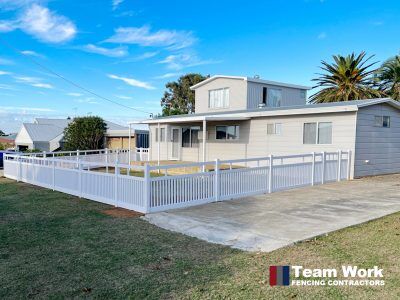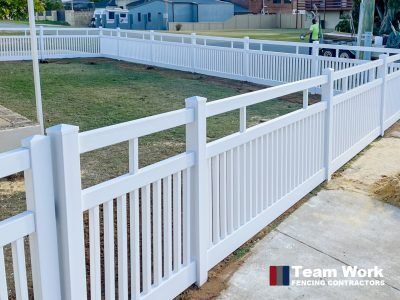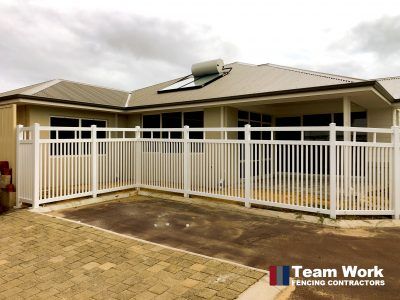 Why Choose A PVC Hamptons Style Fence?
PVC Hamptons fencing looks great and is a fantastic, low-maintenance solution for those who don't want to worry about repainting, insect damage, rot or rust. Some benefits of Hamptons PVC fencing include:
Effortless coastal style.
The Hamptons style is synonymous with laid-back sophistication. PVC Hamptons picket fencing offers semi-privacy while keeping a breezy, open feel, making it perfect for front gardens, side entries and along driveways.
PVC fencing is highly durable and won't rot or rust, making it an excellent option for coastal areas. We even back our PVC fences with a 30-year warranty.
Unlike wood, your PVC fence won't be susceptible to termite damage.
If you love the look of a white-painted wood fence but don't love the idea of regular repainting, a white Hamptons fence made from PVC is a great low-maintenance alternative. No painting is required!
Hamptons PVC Fencing Prices
Fully installed, our Hamptons PVC fencing starts at
$140 per lineal meter
. We have both semi-privacy and
full privacy
options available –
check out our gallery
to see what's possible.
Purchase DIY Hamptons Style Fence Panels Online
DIY installation is a great way to save money on your new Hamptons fence. We have Hamptons picket fence panels, privacy panels and accessories available to purchase directly through our online store. Local pickup and prompt delivery are available in Perth, or please contact us to discuss delivery options outside Perth.
If you're a keen DIYer who is confident on the tools, DIY installation is usually a straightforward process. Our team is here to provide expert guidance and answer your questions along the way – simply call us on (08) 9450 1626.
PVC Hamptons Picket Fencing for Laid-Back Coastal Sophistication
Do you love the laid-back coastal aesthetic of Hamptons picket fencing? This type of fencing is perfect for creating a stylish boundary in front gardens or side entries. There are many ways to customise or complete your fence design with matching Hamptons-style gates, letterboxes, solar lights & planter boxes. Request a free online estimate today!
Suburbs We Service in Perth