Aluminum Pool Fencing Perth
Aluminium pool fencing is a durable, versatile, low-maintenance solution for securing your pool area. Not only do they look great, but aluminium pool fences are one of the more affordable options on the market compared to materials like frameless glass or perforated aluminium pool fencing. This makes them a popular and practical choice for commercial and residential properties.
Our aluminium pool fences feature modular panels with 16-millimetre posts or pickets passing through horizontal rails. As the pickets are welded to the rails in six locations, these fences are incredibly strong and durable. The sleek powder coating makes them rust-resistant and an excellent choice for coastal properties.
We install quality aluminium pool fencing in Perth and its surrounds. Read more about the available styles, pricing and benefits for this type of pool fencing below.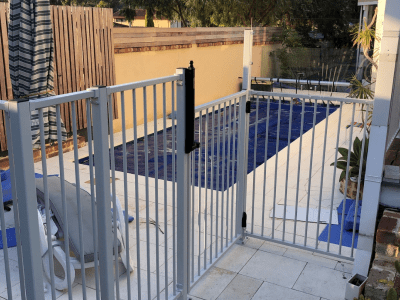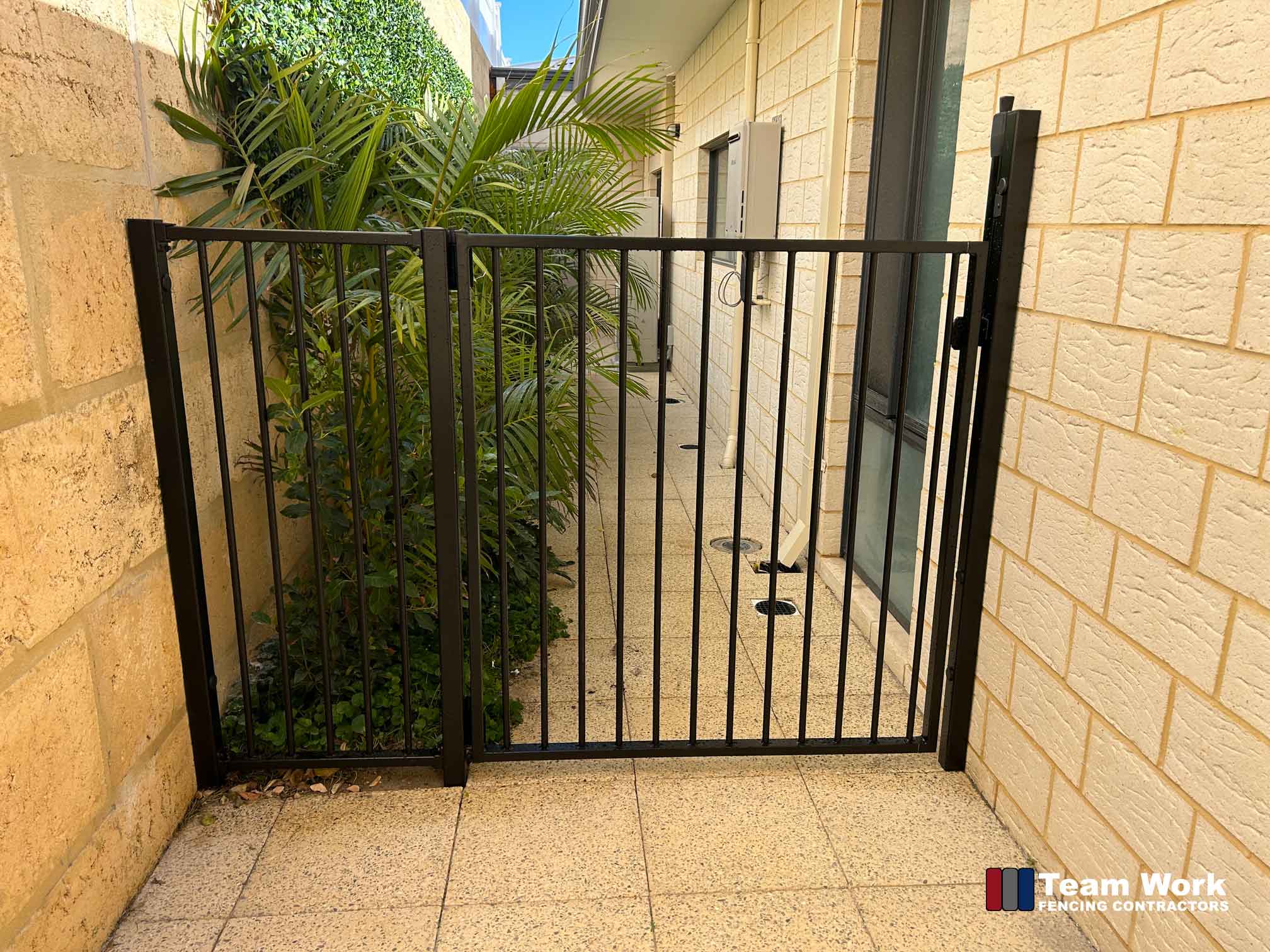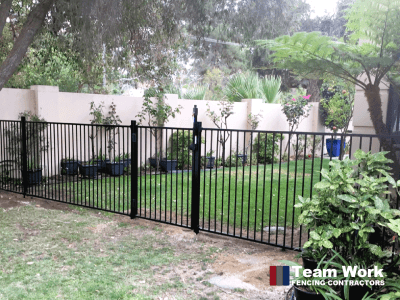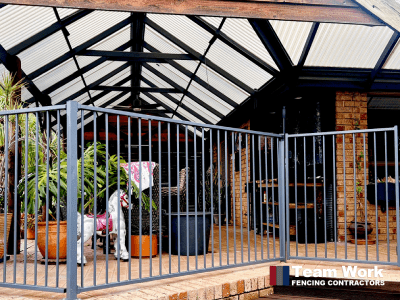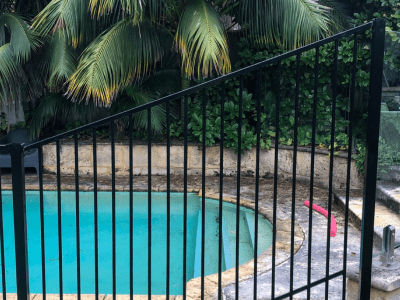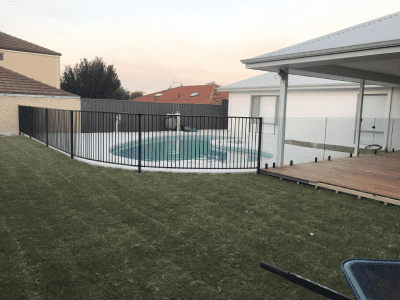 Aluminum is a common material used in numerous construction projects. But why should one pick aluminum instead of glass or semi-frameless? Each pool fencing has its pros. However, the aluminum ones are one-of-a-kind and budget friendly.
Aluminium Pool Fence Styles & Customisation
Aluminium pool fences are timeless and have a simple, clean aesthetic that works well with most architectural styles. We have a few different designs to choose from, including: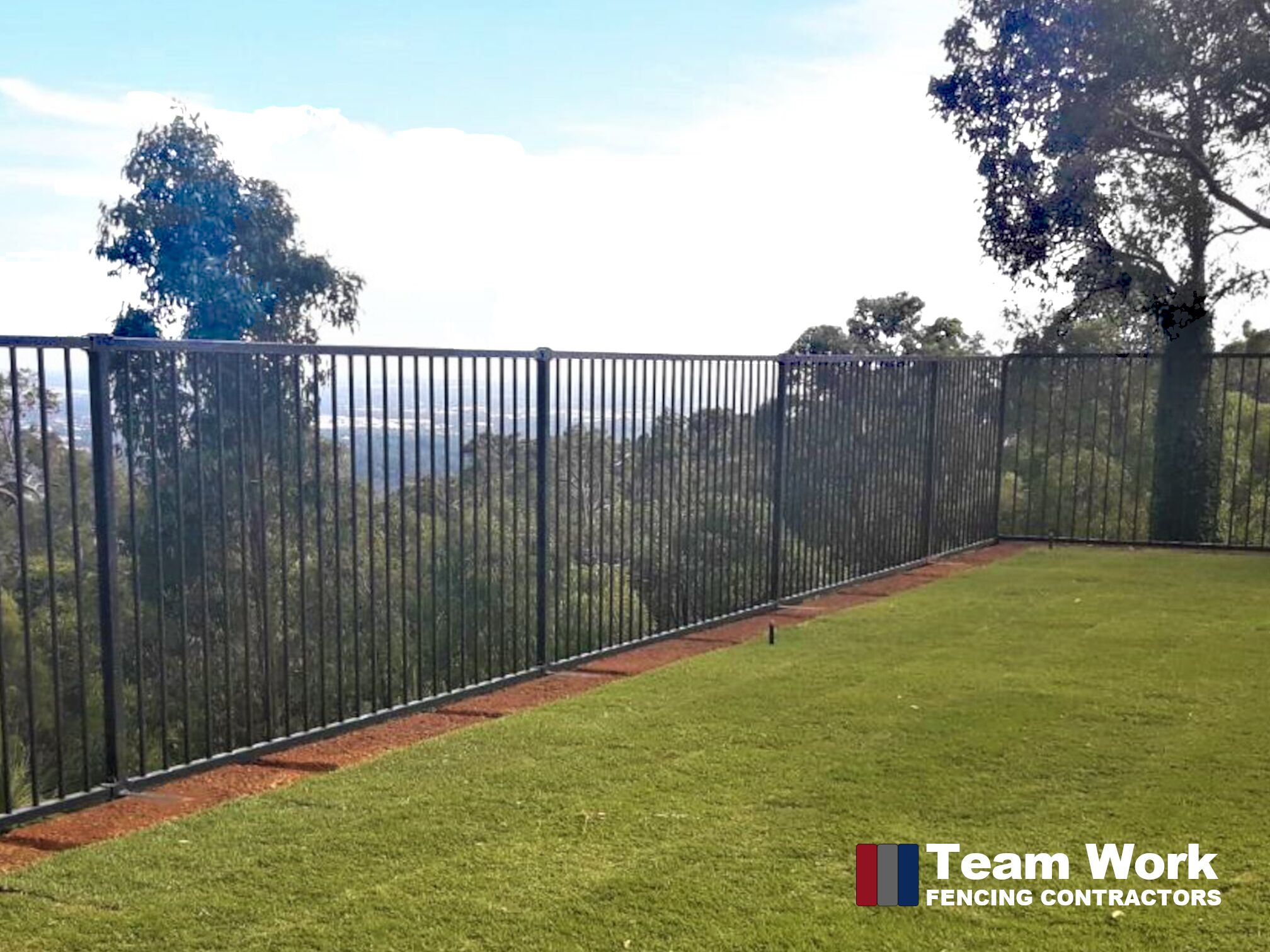 Flat Top Aluminium Fencing
A clean, classic shape with one flat rail on top, and one on the bottom.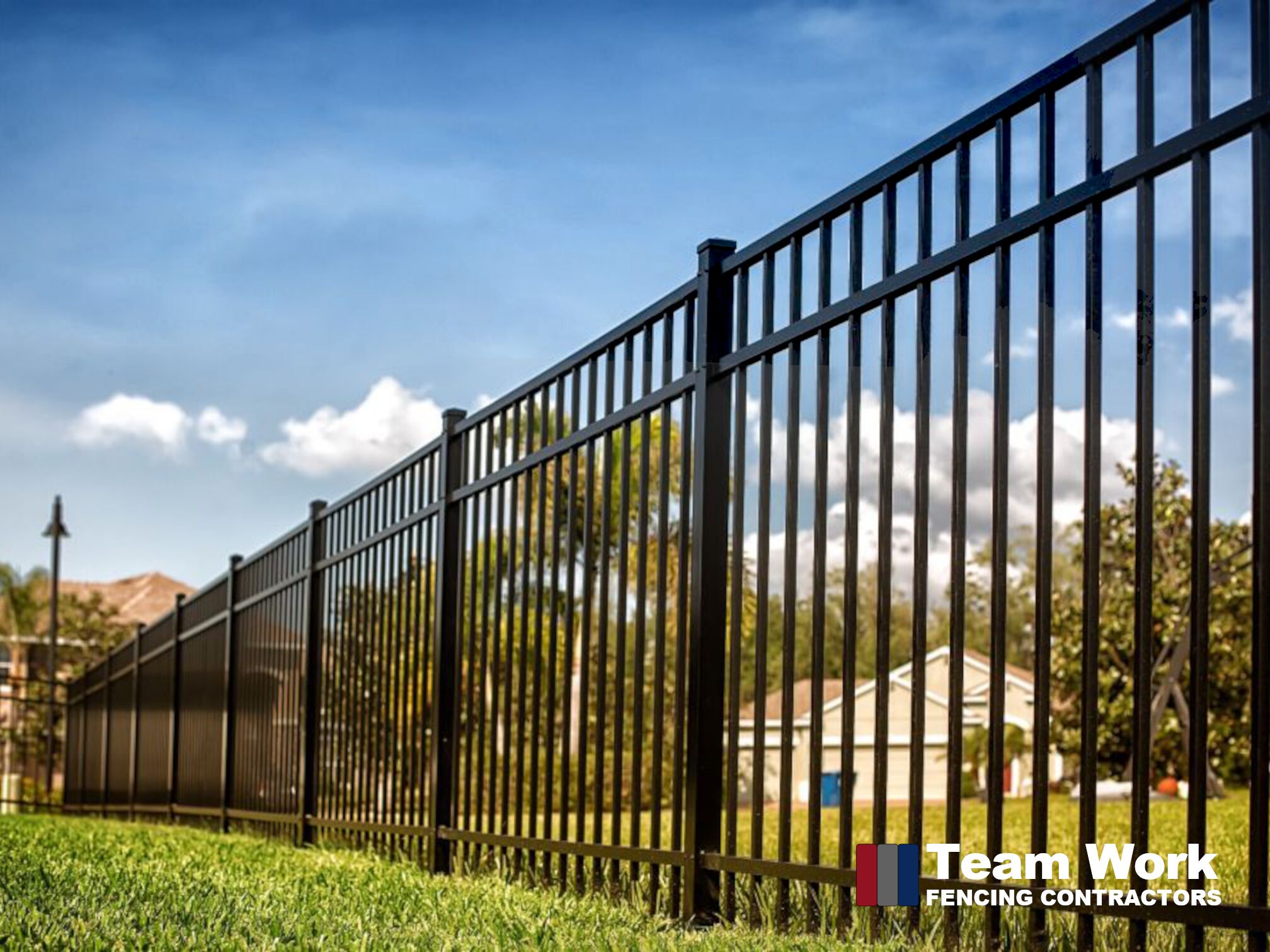 Eumundi Aluminium Fencing
Creates a more robust look with one bottom rail and two rails along the top.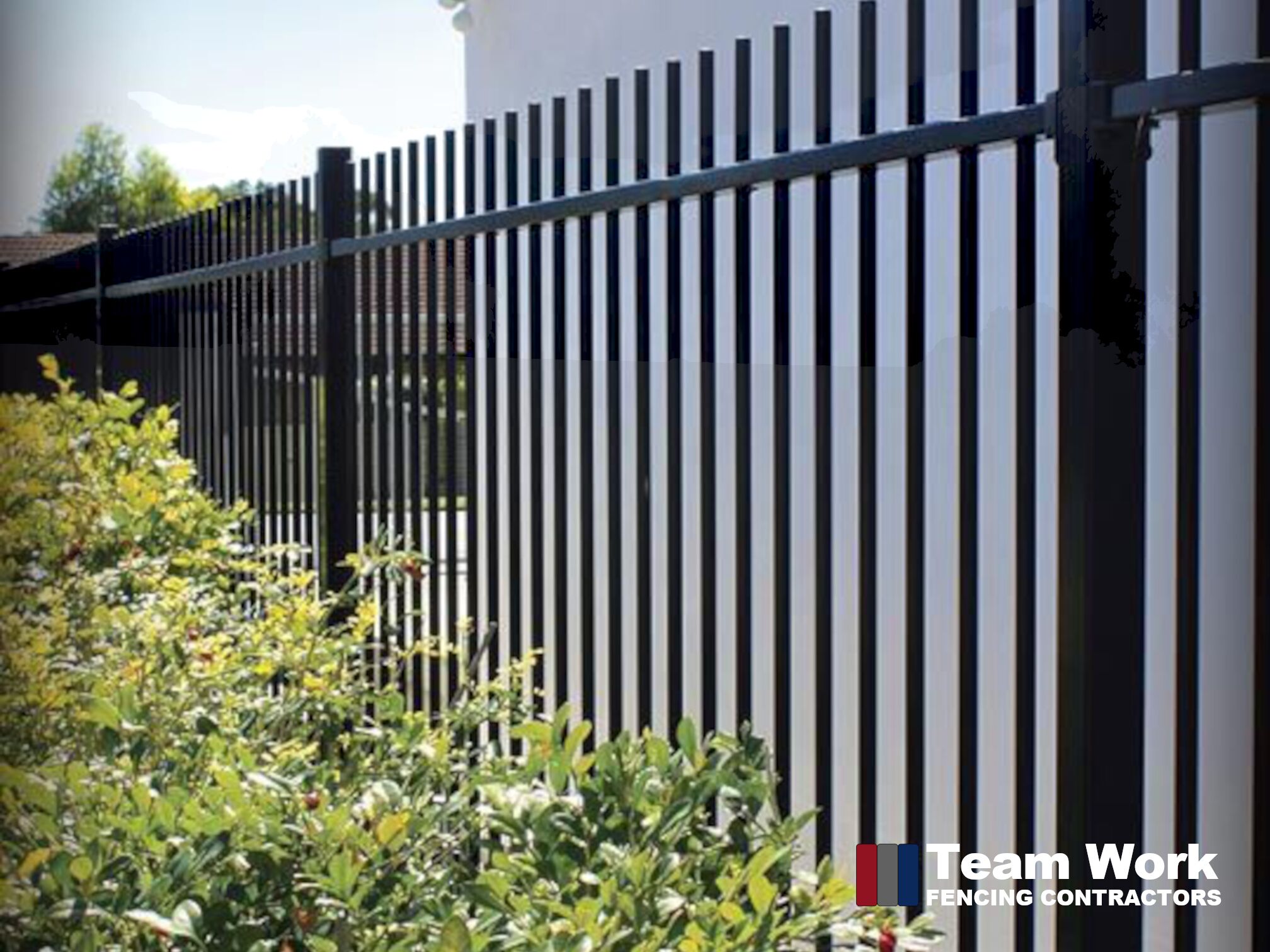 Picket Top Aluminium Fencing
An open-top style with one rail along the bottom and one rail placed just below the top of the vertical posts.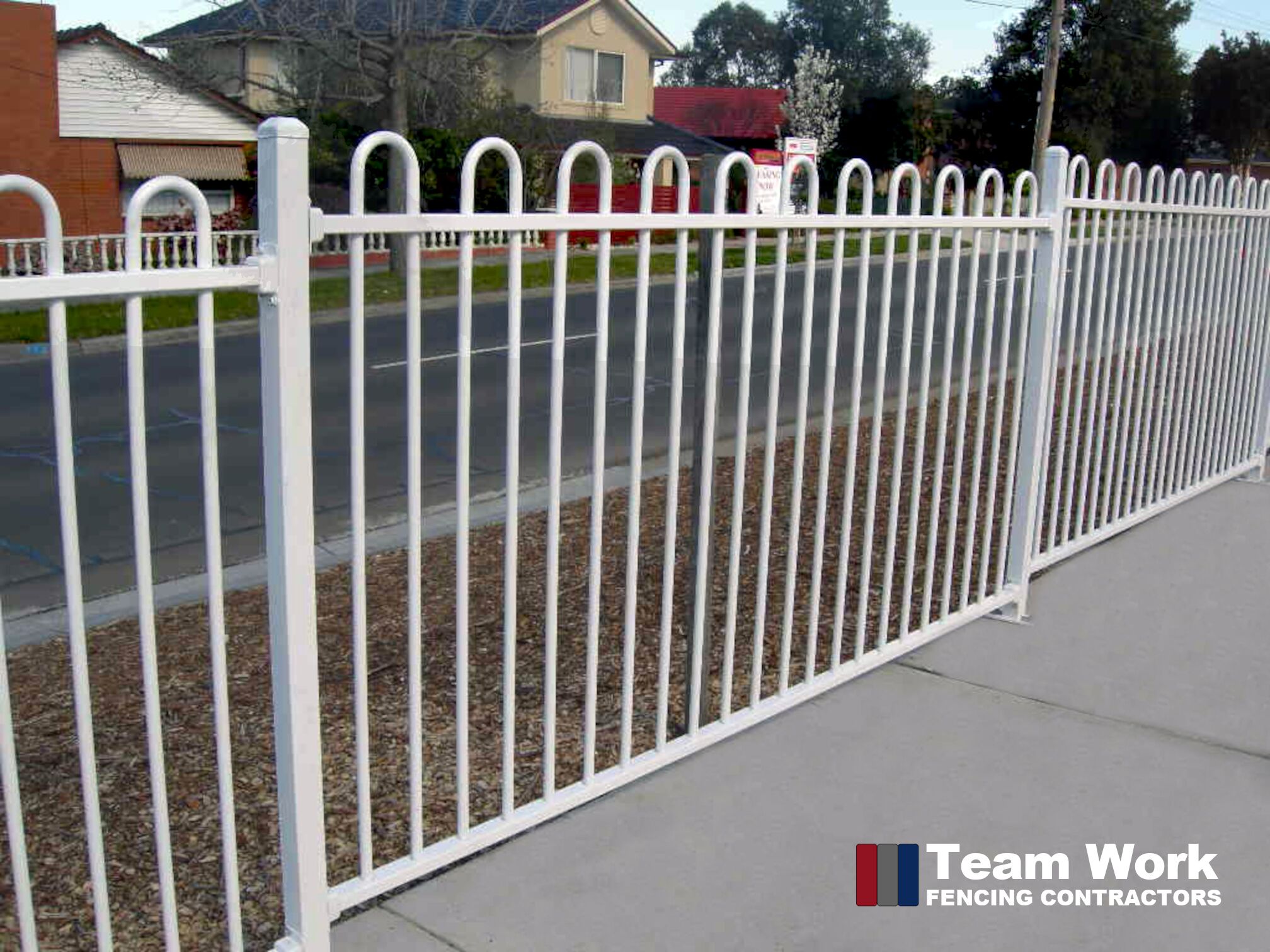 Loop Top Aluminium Fencing
A tubular pool fence with curved U-shape posts for an elegant finish.
We also do custom-made aluminium pool fences for sloped, stepped or hilly properties to ensure your fence has no large gaps and complies with local regulations. Contact us to arrange a site inspection and quote!
Why Choose Aluminum Pool Fencing?
In Perth, aluminium fences are a popular choice for pools and gardens in residential and commercial spaces. Here are some reasons to consider an aluminium pool fence for your property:
Suitable for uneven land.
Aluminium fences work well with hilly or uneven properties, as we can customise them with raked panels to account for gaps on sloped or stepped ground. Other fences, like frameless or semi-frameless glass, can be difficult or expensive to customise and install on this type of land. We can customise your aluminium fence panels to ensure they fit your ground shape and comply with WA pool fencing regulations.
While glass pool fences look pretty, the reality is they need frequent cleaning to stay looking this way. If cleaning glass and dealing with splash marks or fingerprints is not your thing, consider an aluminium pool fence instead! They require much less maintenance and are easier to keep clean.
Aluminium is strong and rust-resistant, making it an excellent choice for Perth's harsh weather conditions and salty coastal air.
If you're budget-conscious, aluminium tubular fencing is a great option – it's more affordable than other materials like glass, perforated aluminium or floating battens. While it may not have as much of a high-end feel, it still exudes classic elegance and is highly durable and versatile to suit uneven ground.
How Much Does Aluminium Pool Fencing Cost?
Our tubular aluminium pool fences cost from just $110 per lineal meter. Use our handy online booking system to request an estimate or schedule an on-site measure and quote.
Professionally Installed Aluminium Pool Fences in Perth
We supply and install a range of residential and commercial pool fences in Perth, Bunbury and the South West, including tubular aluminium pool fences, frameless or semi-frameless glass, floating battens and perforated pool fencing. Our experienced contractors will ensure your fence is installed securely and in line with local pool fencing regulations for your peace of mind.
Check out our photo gallery to see some local projects and get inspired to create the pool area of your dreams!
Click Here to View More Pool Fencing photos:
Suburbs We Service in Perth