COLORBOND® Fencing Contractor in Perth WA
COLORBOND® & HardieFence™ in Perth, WA
In Perth? Looking to install a durable fence to enhance security and privacy of your WA property? Two words: COLORBOND® and HardieFence™. That is, by Team Work Fencing Contractors. We are your expert fence builder in Perth and its northern suburbs.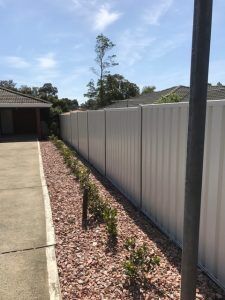 COLORBOND® Fencing Installation
COLORBOND® fences and gates are built to last. Hardwearing, sturdy and secure, they are manufactured using a patented steel by a leading Australian steelmaker (BlueScope) that comprises five life-resistant layers.
The fencing is resistant to rot, termites, fire damage, corrosion and everything in between. That's why all Colorbond products by TWF come with a 10-year warranty.
Colorbond fencing and gates aren't all muscle, though; they are also designed to please the eye. They are visually attractive and offer a selection of colours and profiles to suit any property, scheme or landscape.
Moreover,COLORBOND® fences can be fitted with custom enhancements, and the fencing price is often less than comparable fence options.
HardieFence™ Fencing Installation
Looking for another fence option? Hardie Fencing is another way to go. HardieFence™ features a postless EasyLock System which enables a easy in-ground installation without any need for posts or footings.
Both Colorbond and Hardie fences require little maintenance. Just an occasional wash and ensuring that the bottom is kept free from debris is all that is needed to keep your fencing looking great for years to come. In applications where rainwater naturally cleanses the fence, washing isn't even necessary.
Bottom line, Colorbond and Hardie fencing is the way to go if you want a long-lasting, low-maintenance fence that will protect your assets and loved ones while impressing your neighbours and guests.
Team Work Fencing Contractors installs original COLORBOND® and HardieFence™ products throughout Perth and Western Australia. We also install chainlink security fencing, rural fencing, pool fencing and much more.
For fast, professional installations and fencing services, contact our Perth fencing contractors.
Click Here to View More Fence Products:
Areas Serviced in Western Australia