If you manage a commercial property, you know how vital a reliable gate system is for your business's safety, security and efficiency. Your gate is the welcoming workhorse at the front of your operations – it may be in use for every delivery that arrives, every employee who clocks in and out and every customer who comes and goes. Your gate is also on duty 24/7 to protect your property from unauthorised entry, theft and vandalism. It's an important investment not to be overlooked!
Commercial Security Gates & Electric Gates
Team Work Fencing are here to assist throughout every step of the process of your new commercial sliding gate or swinging gate installation – from determining the most suitable gate for the job, to managing installation, programming and aftercare support. Some of our most popular commercial and industrial gate options include Garrison fencing, chain mesh and specialty designs.
We specialise in custom commercial sliding gates in Perth, automated with powerful Centsys D10 motors. Commercial and industrial gates need to go the distance to ensure ongoing security and efficient access to your property – we're here to help you find the best solution to serve your business, employees and customers. Get in touch today!
Commercial Sliding Gates Perth
Sliding gates are an excellent option for commercial or industrial properties with wide access points, especially those that need to account for large trucks and trailers with bigger turning circles. We can accommodate commercial sliding gates up to 20 metres wide, and they're suitable for areas with restricted access or sloping ground where swing gates are not possible. Sliding gates are more expensive to install than swing gates, but are usually cheaper to automate.


For reliability, longevity and peace of mind, we only use motors from leading brands like Centsys in our Perth commercial automatic gate installs. There are many ways to customise your electric sliding gates with accessories like wireless touchpads, fobs, photocells, battery backups, racks and more. Speak to our team about creating the perfect electric gate for your Perth business!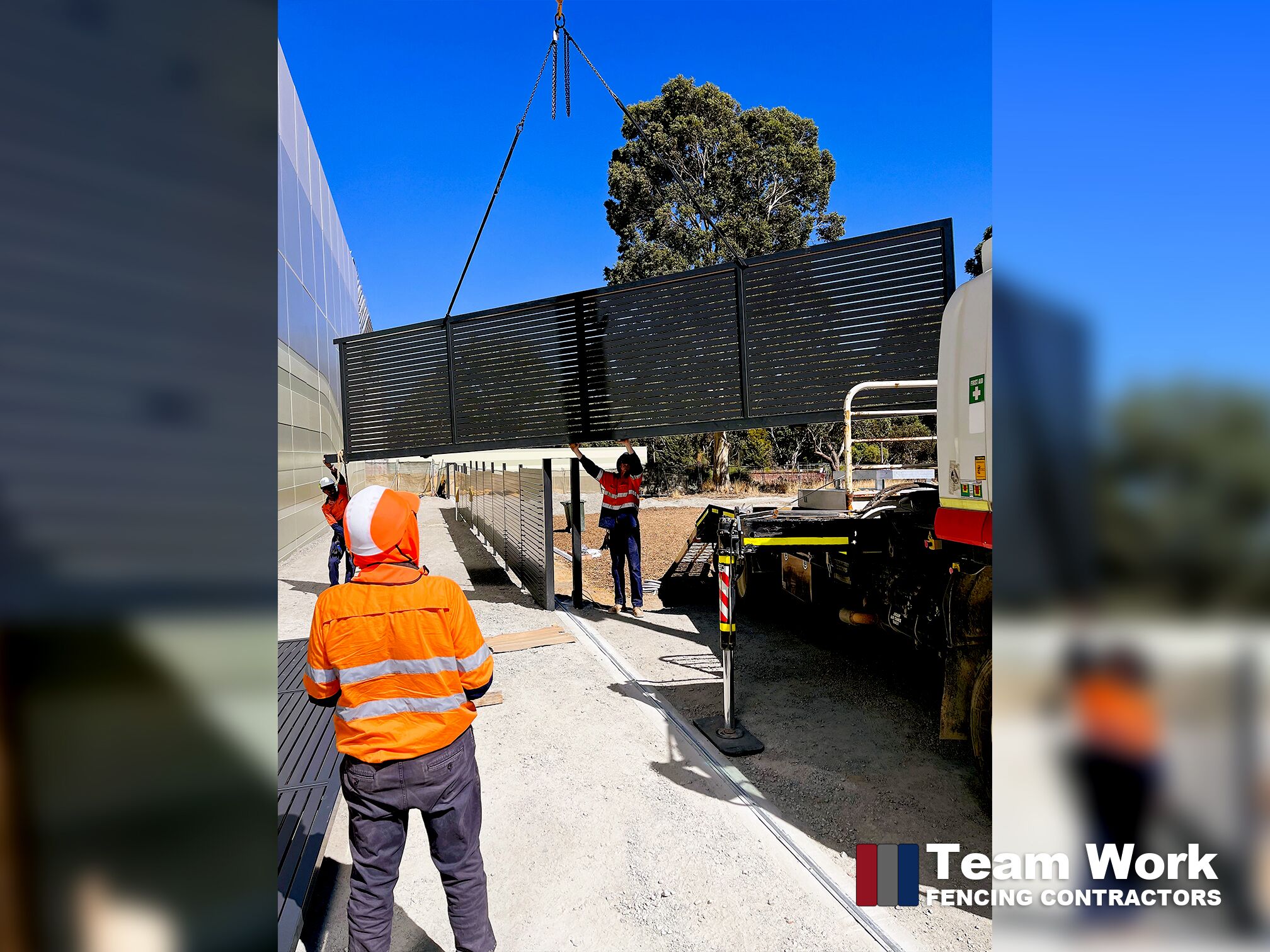 Commercial Swing Gates Perth
Commercial swing gates are best suited to smaller access points, around 10 metres maximum. This is because commercial swing gates need to be made with heavy-duty, fully welded frames to account for frequent use and security requirements – the heavy frames make large swing gates too tricky to open or close and too heavy to automate. Before installing your gate, we'll measure and assess your space and provide feedback on possible access issues to ensure we create the best gate for the job. Single or double swing gates are cheaper to install than industrial sliding gates but can be more expensive to automate. We can fit swing gates with standard hinges or fully welded bearing hinges to hold gates that weigh up to 500kg. Like our industrial sliding gates, automated swing gates have plenty of accessories available to create a fully customised solution that works best for your property and access needs. Finally, security should be front of mind for any commercial swing gate. We can fit locks that you provide or supply and install locks from leading brands such as Borg and Lockwood.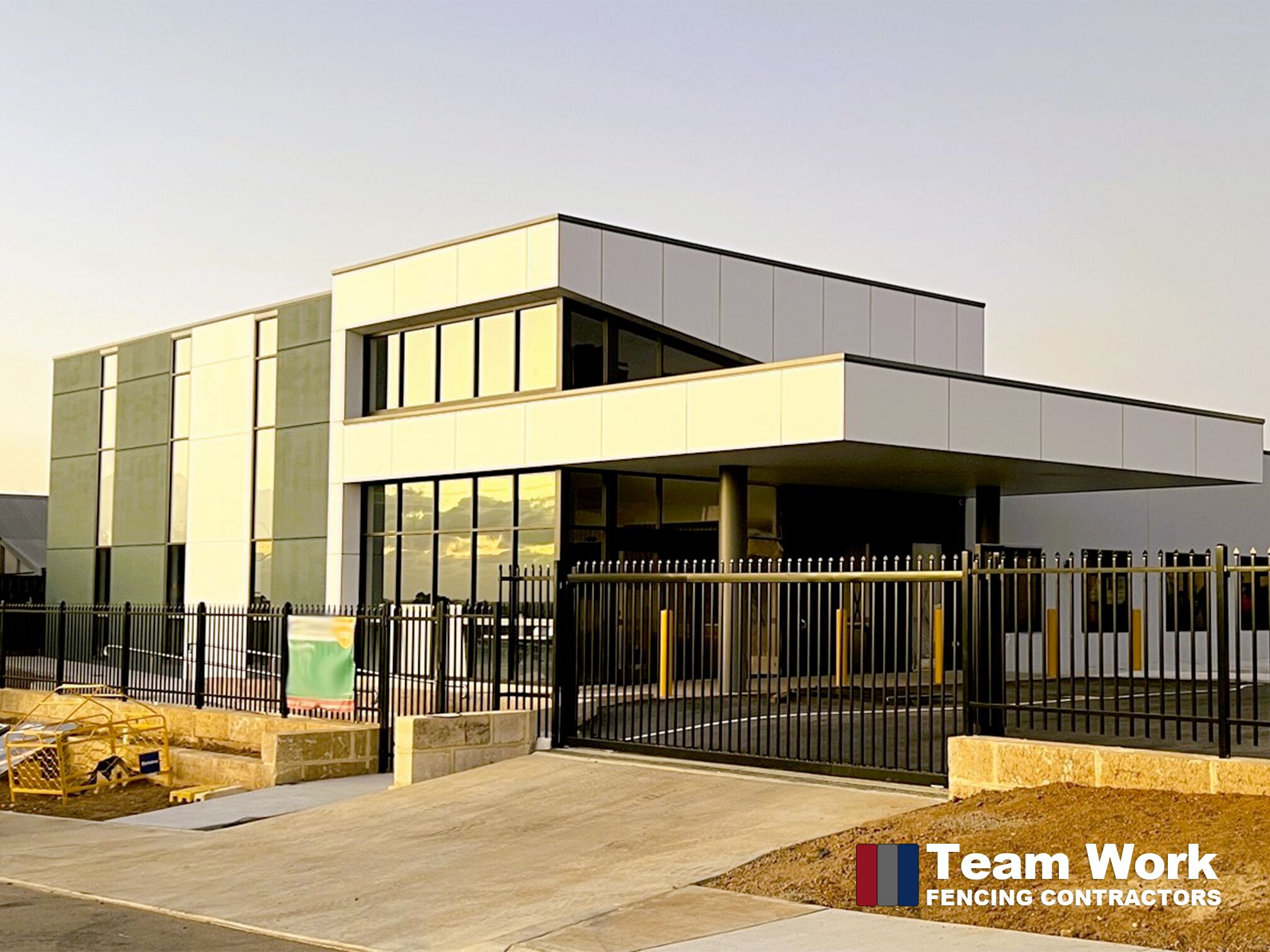 Commercial Electric Gates Powered by Centsys Motors
When choosing an electric gate for your Perth commercial property, it's essential to select a robust, reliable motor that'll keep up on your busiest days and provide security when you need it most.
The Centsys D10 and D10 Turbo sliding gate operators are a popular choice and our recommended electric gate motor for commercial properties. Some of the features include:
Battery backup with handy LCD screen to indicate battery levels
High volume and heavy-duty cycle capabilities suitable for intensive use
Easy manual override and sensitive anti-crushing protection for safety
LCD interface with visual and audio diagnostics and notifications for easy use
Intelligent speed control and turbo speed options for enhanced security and convenience
World-first intruder detection alarm modes
Commercial Gates and Fences in Perth & Bunbury
We understand that commercial gates must be built to go the hard yards – frequent use, ease of access, functionality, and security are all essential considerations, whether your business is large or small. For your operations to move smoothly, your gate has must to do the same. At Team Work Fencing, we're equipped with the expert knowledge to guide you through the gate selection process, advise on automation and security features, and keep your installation as hassle-free as possible. We service commercial and industrial properties in the Perth metro area, Bunbury and the South West – contact us today for expert advice or to schedule a site visit.
Click Here to View More Gates Photos:
Suburbs We Service in Perth