Your Guide to PVC Fencing in Perth
PVC fencing (also known as vinyl fencing) is growing in popularity here in Perth and for a good reason. It looks stylish, requires little maintenance, and is durable enough to withstand most of Perth's harsh weather and coastal conditions.
Team Work Fencing install PVC fencing across Perth, Bunbury and the South West region. Our team of fencing contractors has over a decade of experience, so you can feel confident that we will install your PVC fence with the utmost care and attention to detail. If you're looking to save money and are handy on the tools, we also have DIY PVC fencing options available.
Read on to learn more about PVC fencing and why it has become one of the fastest-growing products in the Team Work Fencing range.
Whether you're going for a coastal Hamptons look, a classic white picket fence or a PVC privacy fence, there are plenty of styles to choose from. Check out our PVC Fencing Gallery to see what's possible.
PVC fencing is solid yet flexible, which means is can withstand most of Perth's windy conditions. It's also resistant to rust, rot and termites (unlike some metal and timber fences), making it perfect for salty coastal areas. In fact, PVC fencing is so durable that we offer a 30-year warranty for your peace of mind.
With PVC, it's possible to achieve a similar look to painted wood fences without the need for regular sanding, repainting and termite treatments.
We can customise your PVC fence to suit almost any application and can combine it with other materials like metal or timber to create a unique look. There are so many possibilities – check out our
gallery
to get inspired.
How Much Does PVC Fencing Cost?
Due to their high durability and low maintenance, we believe PVC fences are a cost-effective, long-term investment. You may be paying more than you would for a timber fence with a similar look, but you'll spend less money on repainting, termite treatments and general maintenance to keep it looking in tip-top shape.
We've broken down estimated costs for the various styles below, but please contact us for a no-obligation quote.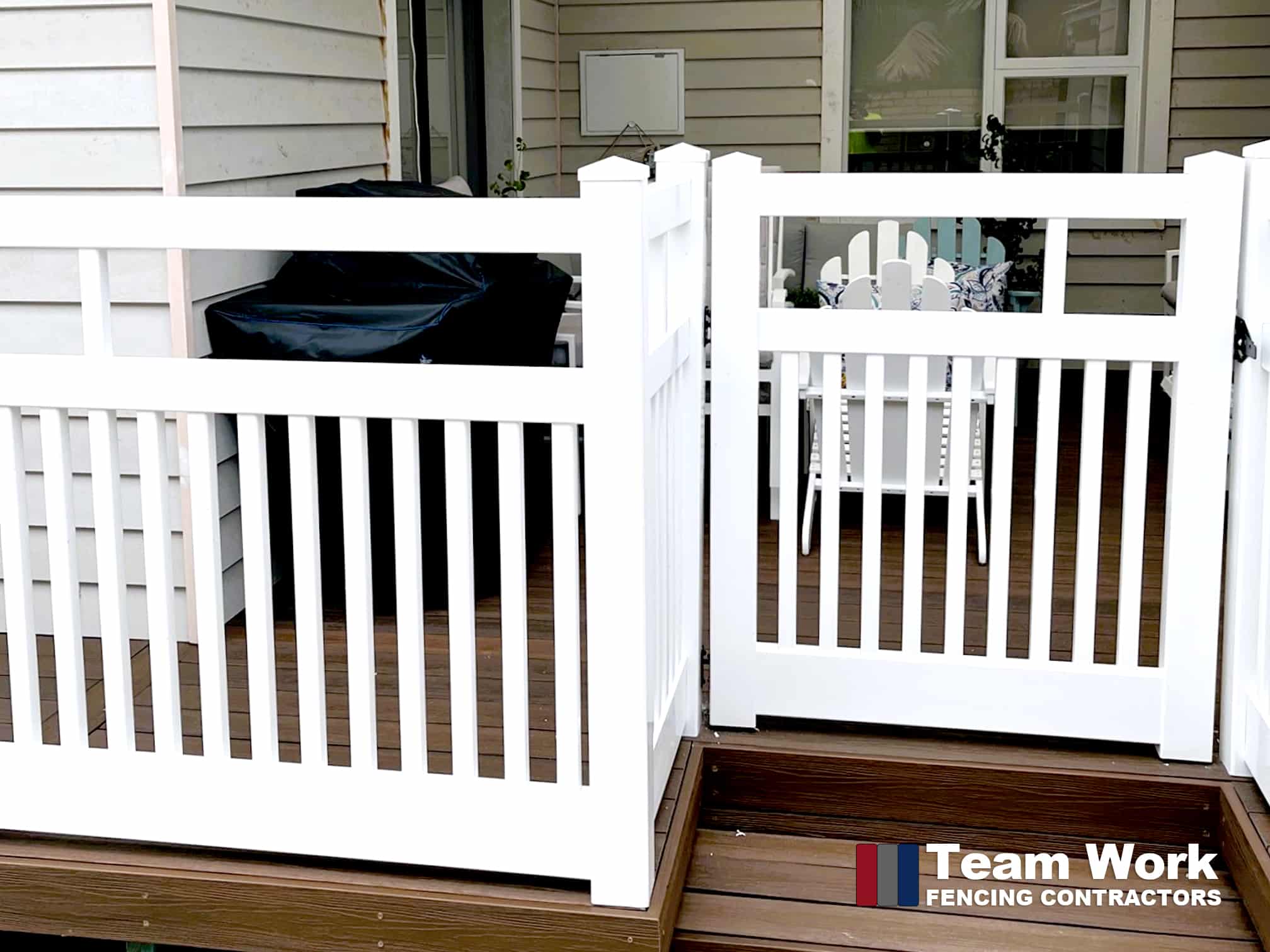 Hamptons PVC Fencing
Starts at $150 per lineal metre
Modern PVC Fencing
Starts at $130 per lineal metre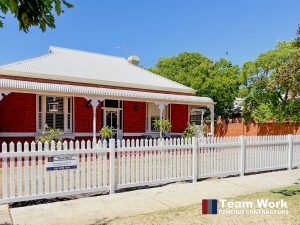 New English Fencing
Starts at $130 per lineal metre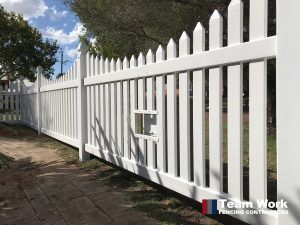 Gothic Fencing
Starts at $140 per lineal metre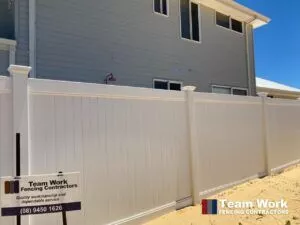 PVC Privacy Fence
Starts at $130 per lineal metre
Full Privacy PVC Fencing with Lattice on Top
Starts at $130 per lineal metre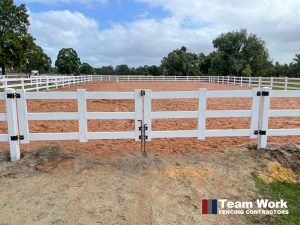 PVC Rural Fencing
Starts at $70 per lineal metre
It might be cliche, but there's a reason a white picket fence comes to mind when most of us picture our dream home here in Perth. It's hard to pass up on timeless suburban beauty. Experience your slice of the Australian dream with a PVC picket fence perfectly suited to your home.
Increase your home's street appeal with PVC picket fencing in Perth that complements your aesthetic:
Team Work Fencing can also keep your PVC picket fence in great shape for the foreseeable future. Our team can provide ongoing maintenance and fence repairs to keep your PVC fencing looking great for years to come.
PVC fencing is one of Australia's fastest growing products due to its unique shape, privacy benefits, noise reduction, durability, and cost-effectiveness. PVC privacy fence has a stylish vertical profile, top/bottom rails for a 'solid wall' finish and most opt for a standard height of 1800mm high. You can opt for a combo privacy + slat topper with either 300mm or 600mm slats which combine the best of full & semi privacy styles together.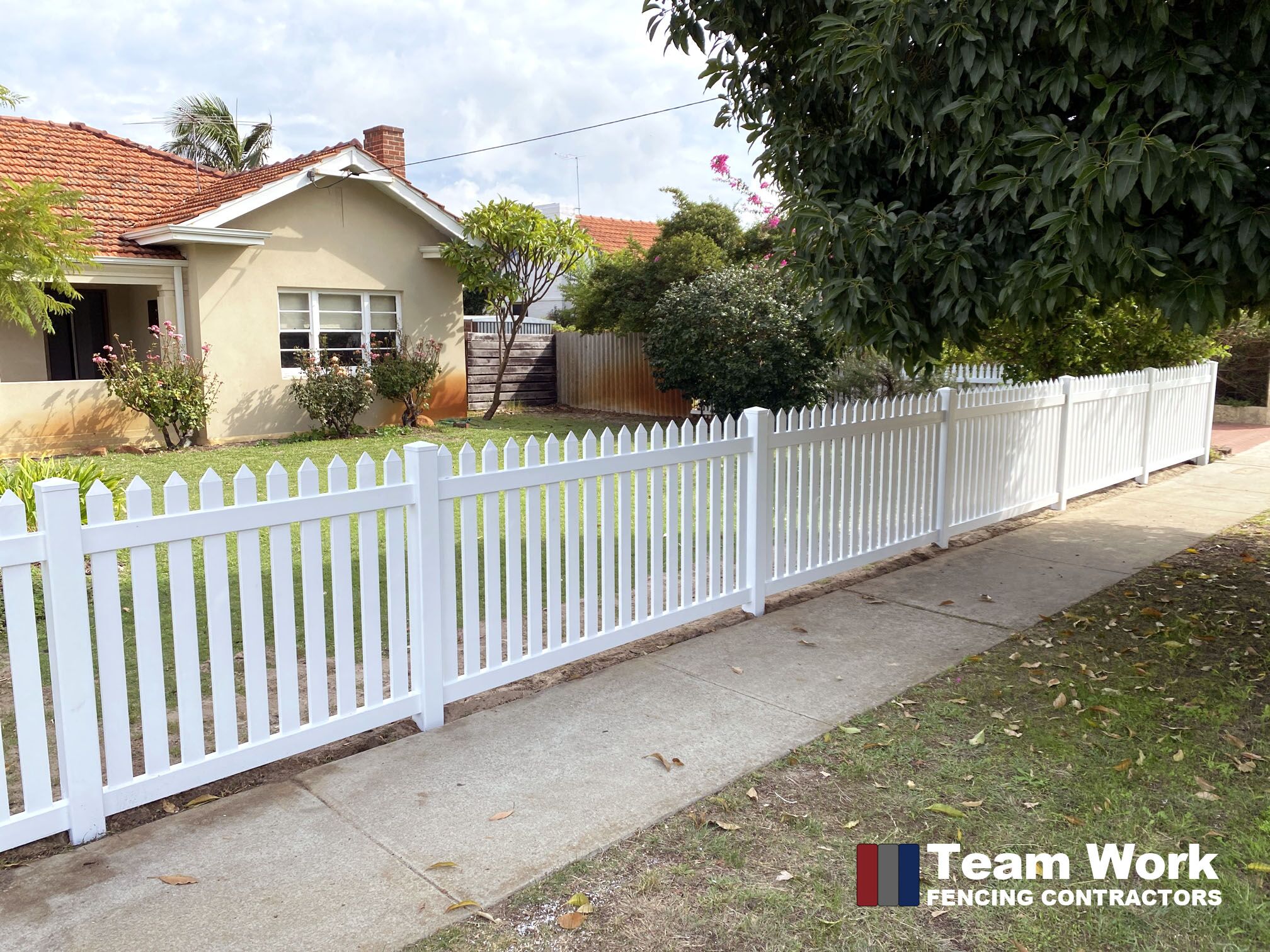 White PVC New English Flat Picket Fence Installation in Perth
PVC Fencing Hamptons Style installed in Perth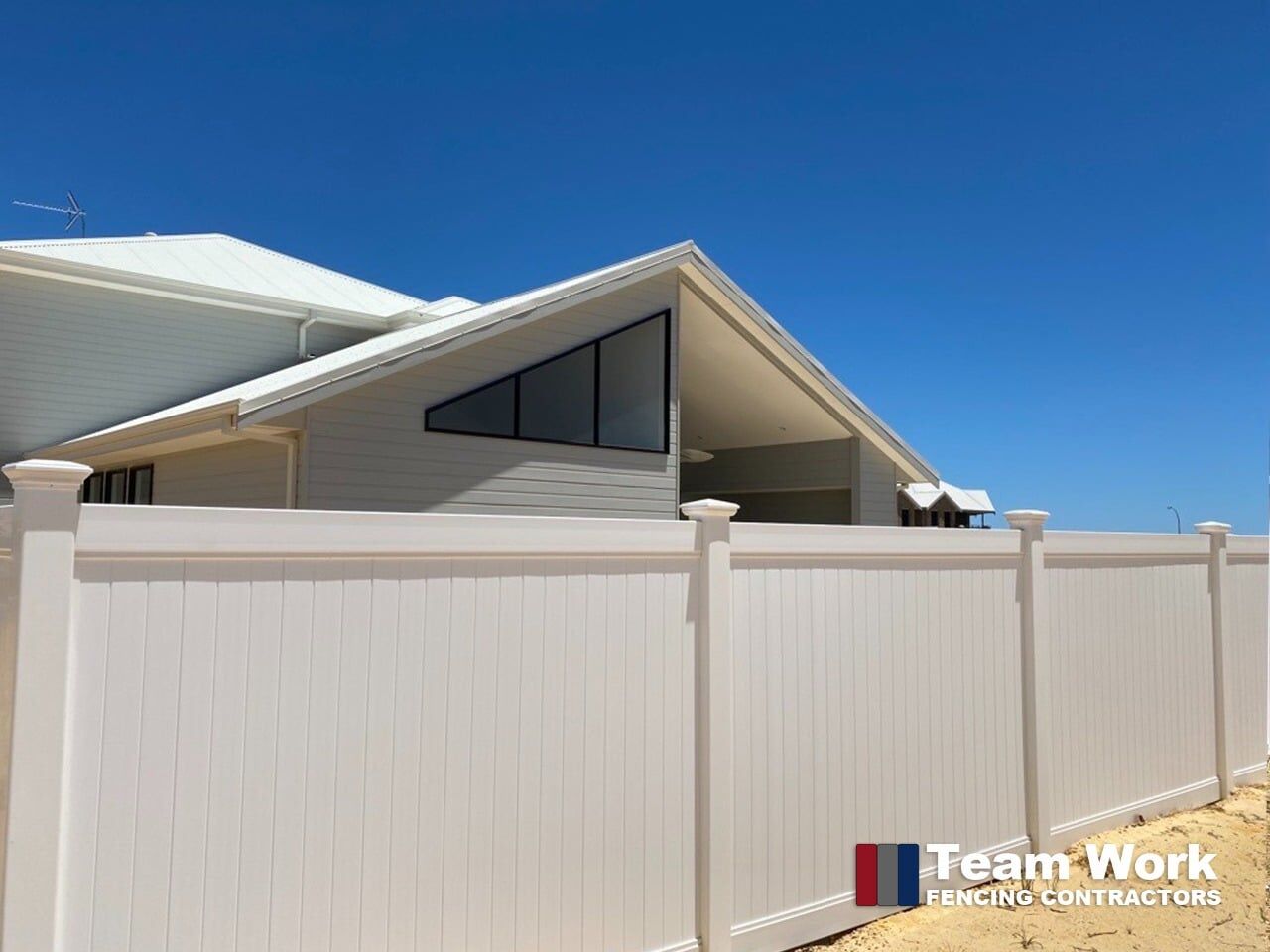 PVC Privacy Fencing Perth by Team Work Fencing Contractors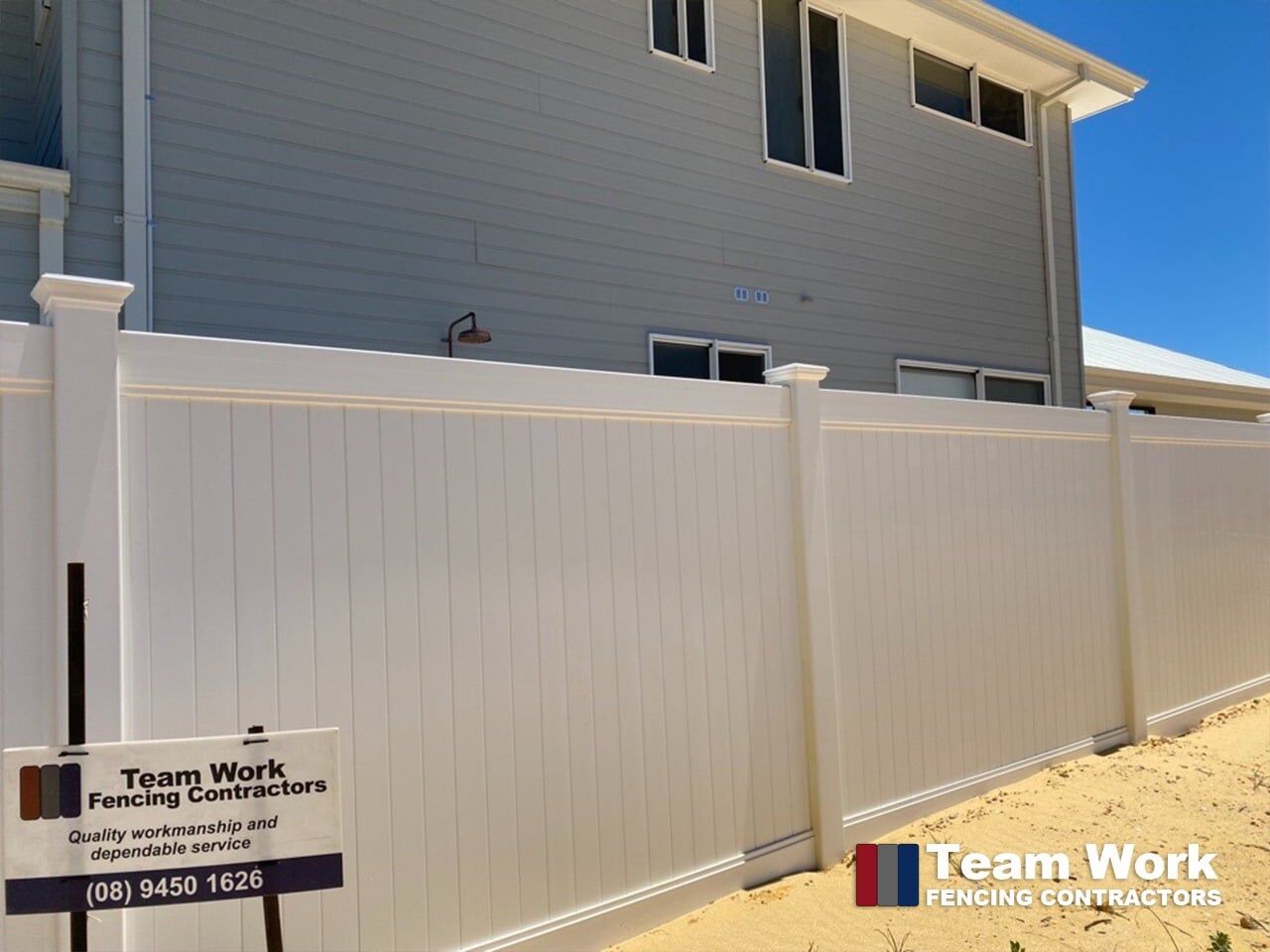 Team Work Fencing Contractors offers PVC privacy fence installation in Perth
Team Work Fencing Contractors are the leading PVC privacy fence installers in Perth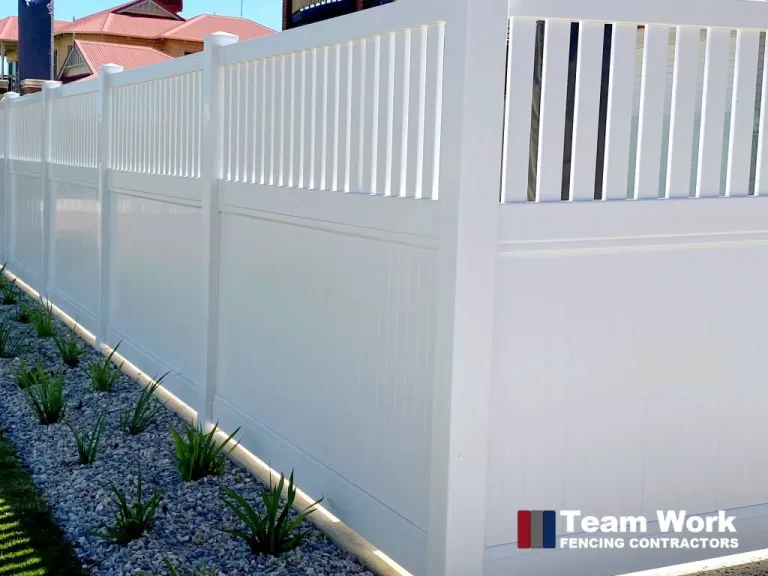 Privacy PVC Fencing with Lattice Top installation in Mandurah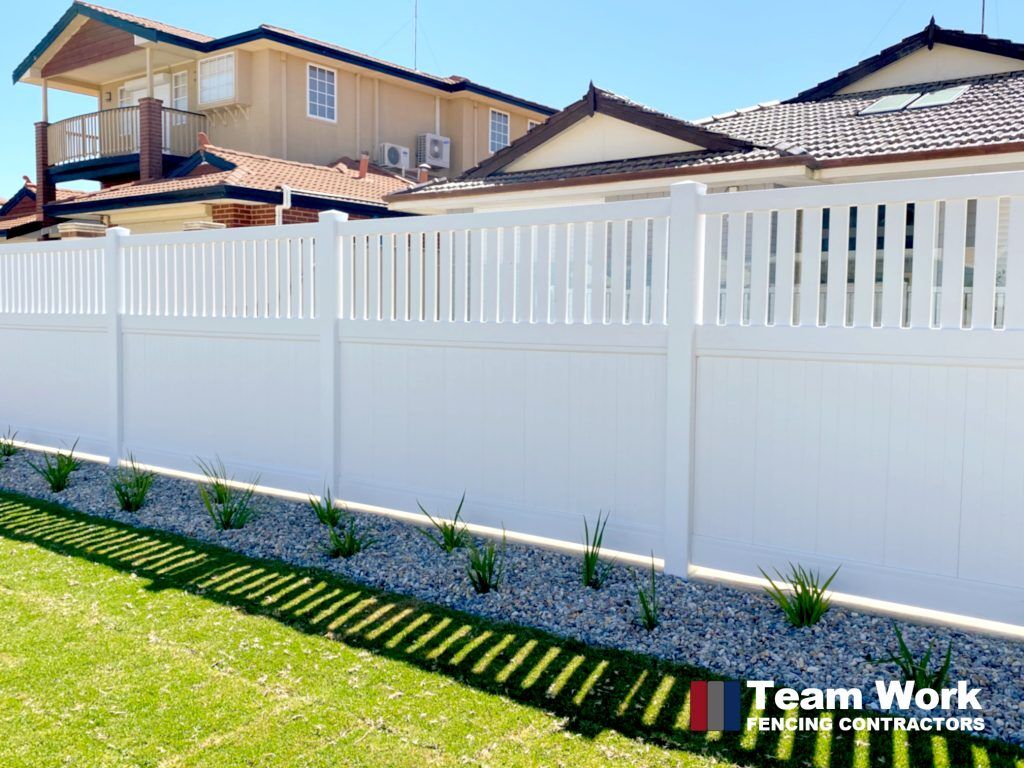 PVC Privacy Fencing with Lattice TopPVC Privacy Fencing with Lattice Top by Team Work Fencing Contractors Perth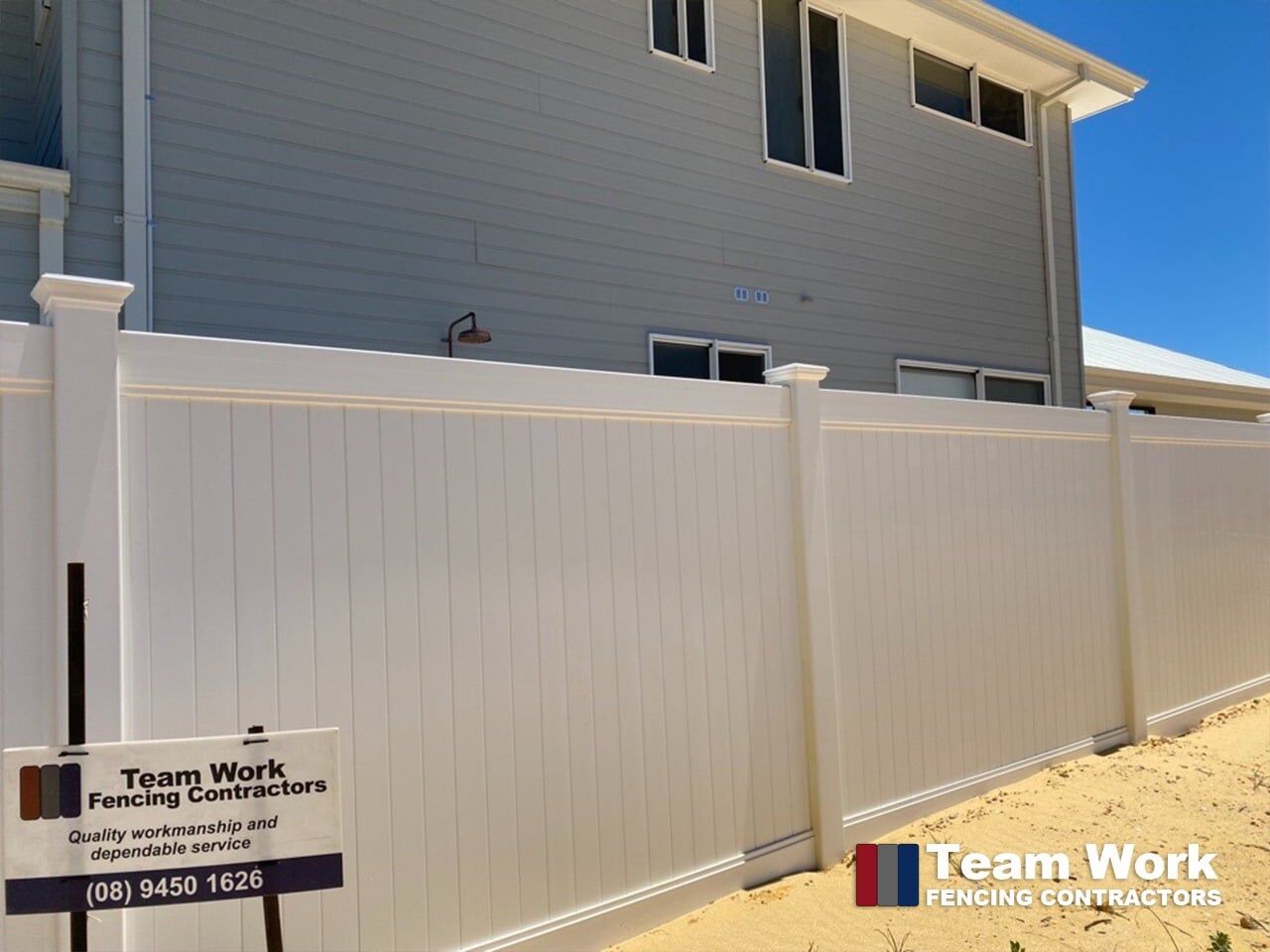 White PVC Privacy Fence and Gate Installation Perth
The DIY approach is a great way to save money on your new vinyl fence. You can purchase PVC fence panels from the Team Work Fencing store from as little as $80 per meter. If you want to try your hand at a DIY PVC fence, privacy fence with a slat topper, or something purely decorative, we'll supply professional quality materials and all the expert advice you need to make it happen.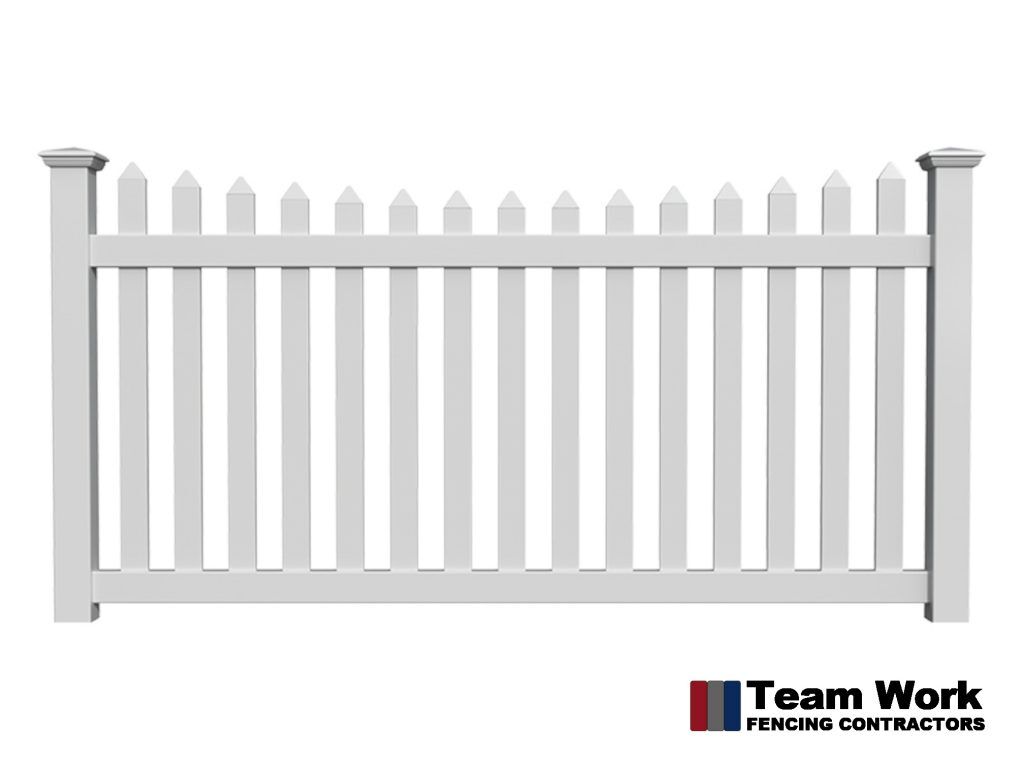 DIY PVC Fencing Perth – Gothic Scalloped PVC fence panel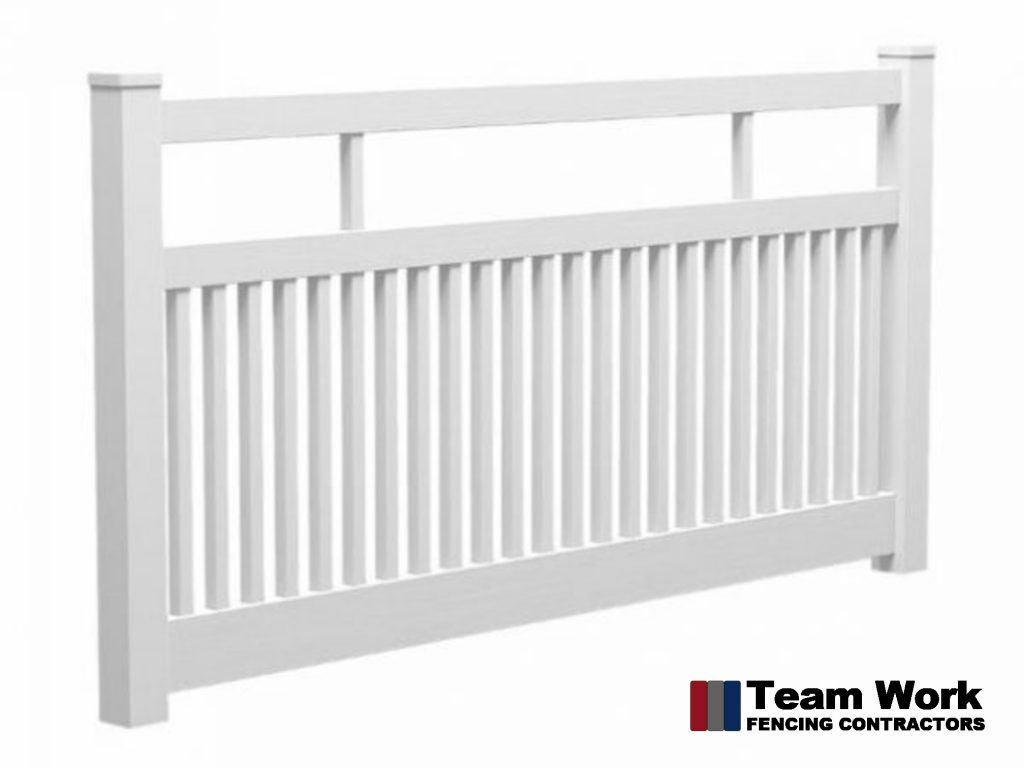 Hamptons Style PVC Fence Panel for DIY fencing in Perth
1. What are the disadvantages of PVC fencing?
Despite all its strengths, PVC fencing does have a few disadvantages. It can crack if hit heavily, and the interlocking panels could be less secure than fences that are nailed or bolted together. White fences can also turn yellow over time if in direct sun, and coloured fences can fade. As they're plastic, PVC fences could be considered less environmentally friendly; however, their longer lifespan means fewer materials are likely to end up in landfills.
2. Which picket fence is better, wood or PVC?
PVC picket fences can provide a similar look to wood without the need for painting and termite treatments. They're becoming popular for people who love the look of painted wood but don't want to deal with high maintenance nature of timber. Check out our in-depth comparison of different fence materials to help you make your decision!
3. How long does PVC fencing last?
Our PVC fences should last around 30 years, which is why we offer a 30-year limited warranty.
4. Can a PVC fence be painted?
5. Is PVC fencing expensive compared to other types of fences?
PVC fencing is more expensive than timber and Colorbond, but more affordable than aluminium slat fencing. Because it has an extended warranty and requires little maintenance, the higher upfront cost may be well worth the investment. Request a free estimate to compare prices for your project.
The PVC used for fencing materials is chemically inert, so it doesn't leech dangerous chemicals into the surrounding soil.
Our PVC Fencing Projects Across Perth
Looking for inspiration? Check out our previous PVC fencing projects below.
If you're ready to transform your home with a modern PVC picket or privacy fence, our expert contractors are here to help. Get in touch today for a no-obligation quote or to request a fencing sample.
Click Here to View More PVC Fence Photos:
Suburbs We Service in Perth