Garrison Fencing in Perth, WA
If you're in the market for security fencing in Western Australia that will effectively protect your properties without compromising aesthetics, consider TWF garrison fencing Perth.
Team Work Fencing provides high-quality commercial fencing services and products for property owners seeking quick and professional garrison installations.
Garrison fencing is an excellent solution when you require a high level of security for your property but do not want to give the appearance of imprisonment or entrapment.
Ideal for schools, sporting facilities and commercial or industrial properties, this is a smart-looking fence that makes intrusion incredibly difficult, and once installed, it instantly adds value.
Garrison security fencing gives your premises a fresh corporate appearance. It comes standard in a black hot dip galvanised finish or it can be powder-coated in a colour of your choice to suit the design of your property. The fences are available in 3 heights and can be fitted between structural features. Custom garrison sliding and swing gates can be installed to match your new fence.
One of the main benefits of garrison fencing in Perth is that it offers incredible durability. The fences are designed to last a lifetime with little to no maintenance, and in most cases, they never need replacing. This is because garrison is made from tough tubular steel that is reinforced to endure weather, prevent corrosion and resist intruders. It is notoriously challenging to cut or break.
To enhance the protection of your property, TWF's heavy-duty garrison security fencing is installed with spear-like pickets. For additional security, electric fencing and various other features can be added to discourage climbers. Even if someone did make it onto your premises, they would have a hard time getting out – trespassers would likely be arrested before they could escape.
Garrison Fence Bonus: It's Environmentally Friendly
Garrison fencing Perth is 100% recyclable. Because the fences last a lifetime, they have a smaller carbon footprint than comparable solutions. Their powder-coated finish helps to prevent oxidisation and the leeching of compounds into the surrounding soil. Our fencing contractors also use green installation techniques, which further reduce any impact on the environment.
Garrison Fence Panels Design & Specifications
TWF garrison specifications:
Garrison steel panels are 2400 millimetres wide x 1800 mm, 2100 mm or 2400 mm high.
Spears are punched through the horizontal 40 x 40 mm tubing and then welded. This makes for a far stronger fence than a traditional face welded garrison panel.
Spear picket tops on the fences are strongly pressed – designed to deter and obstruct criminals.
All materials used by Team Work Fencing are powder-coated in accordance with AS/NZS 4506-1998.
Garrison Security Gates Perth
Security gates are an important component of any commercial facility's security measures, be it for business or industrial application; security gates provide not only physical boundary but added protection.
Popular commercial fences and gates often are made of garrison security gates. Garrison gates offer a variety of features and benefits, suitable for both commercial properties as well as industrial sites that require heavy-duty security.
Garrison gates, just like garrison fences, are made from steel panels. Steel is an excellent material for security fencing and gate due to its sturdy durability; it'll last for years without needed maintenance or replacement. This long lifespan and strength will provide peace of mind that it will not need replacing in the foreseeable future.
Garrison gates are not only highly effective at keeping intruders out, but add aesthetic value and prestige to your premises.
Custom security gate installations can be made from a range of designs. Garrison gates can be converted to sliding gates. These can be fully automated or manually operated, to suit your needs.
Team Work Fencing offers garrison security gate installations in Perth, Bunbury and South West.
Team Work Fencing's team have extensive experience installing this range of gate systems, request a free quote today for more information on pricing and availability.
Garrison Security Fence Applications
Garrison is suitable for:
Schools
Power stations
Government infrastructure projects
Parks
Factories
Warehouses
Sports facilities
Commercial and industrial applications
Garrison Fence and Gate Photos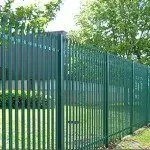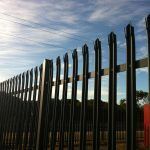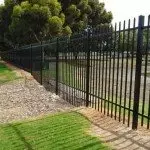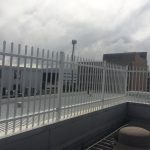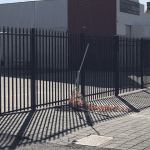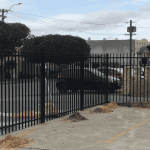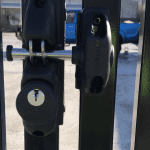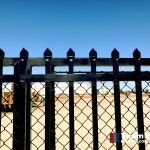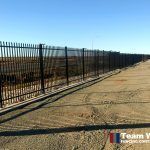 Click Here to View More Chain Link Fence Photos:
Go for Team Work Fencing Garrison
Interested in garrison fencing Perth? Garrison is valued for its aesthetic appeal, security and durability, in Australia and abroad. With TWF, every installation is done professionally and the products that we install are of the highest quality, so the benefits are maximised.
Contact us today for our garrison fencing prices or if you would like more information on how we can secure your commercial properties.
Suburbs We Service in Perth