BARR Batten Fencing Perth: Modern and Stylish Aluminium Pool Fencing
BARR fencing is an exciting innovation in aluminium batten fencing that has recently arrived in Perth. It's the perfect solution for homeowners looking for a stylish and modern pool fence or those wanting to create the popular "floating battens" look. Below, we've shared everything you need to know about this solid and visually stunning product.
An animated video giving brief details and features can be found here
BARR batten fence panels and gates are made from sturdy aluminium extrusions – 25mm x 25mm top and bottom rails threaded through 50mm x 25mm vertical battens. The top and bottom rails are threaded through precision-cut holes in each of the battens before being welded into place, unlike some other types of aluminium pool fencing, which is only face welded. This design feature makes BARR fencing exceptionally strong while maintaining a stylish aesthetic.
Three heights are available to suit most applications: 1000mm, 1200mm (pool compliant) and 1800mm (also pool compliant).
All BARR fence posts and brackets have the same profile dimensions, so they have a seamless look from both front and back views. As a result, BARR fencing looks great as a boundary fence, as well as around pools.
Benefits of BARR Batten Fencing
Yes, it looks great – but there are many other practical benefits to choosing BARR aluminium batten fencing for your property.
If you want to create a sleek and contemporary feel around your pool and love the floating batten look, BARR may be for you. It's available in two powder-coated finishes, Satin Black or Pearl White, to suit your taste and colour scheme. We especially love the look of BARR panels when used as an accent with frameless glass pool fencing.
BARR fencing is made from strong aluminium alloy, with the top and bottom rails threaded through holes in each batten and welded in place for superior stability. Some other aluminium pool fences are only face welded, which holds up well in most situations; however, BARR's design offers unparalleled strength.
Aluminium is more rust-resistant than other metals like steel, making it a superior option around pools and in humid climates. Even frameless glass pool fences usually have small amounts of stainless steel in their base support fixtures, which can be prone to rusting over time.
BARR pool fencing is a great low-maintenance option if you'd rather spend your spare time relaxing by the pool instead of cleaning your pool fence. The occasional scrub-down with a soft brush and soapy water, followed by a rinse with the garden hose, will help remove dust and debris and keep your BARR fence in tip-top shape.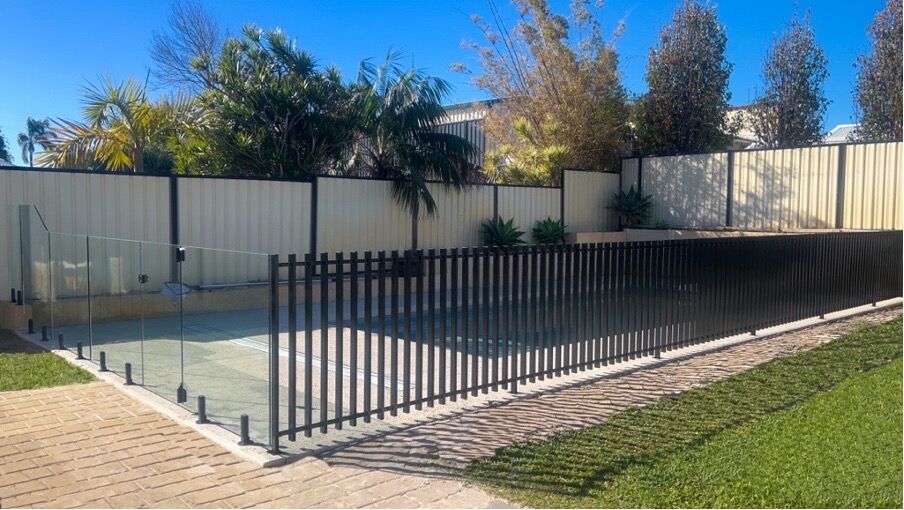 BARR Pool Fencing vs Aluminium Pool Fencing
So, why choose BARR pool fencing over regular aluminium pool fencing?
Both are great low-maintenance, rust-resistant fences that stand the test of time. However, BARR pool fencing offers a more high-end look and unparalleled strength thanks to its clever pass-through design.
If you're on a budget, regular aluminium pool fencing is still a fantastic choice. But if you want a premium product that oozes style and looks the part, BARR batten fencing is well worth considering.
Our Perth fencing contractors will advise you on choosing the best fence to suit your space, taste and budget – get in touch today!
How Much Does BARR Batten Fencing Cost?
As it's a premium product, BARR fences and gates are more expensive than regular aluminium tubular fencing. However, it is cheaper than other higher-end pool fences, such as perf pool fencing or frameless glass.
As a rough estimate, you can expect to pay from $290 per lineal meter for BARR fencing, professionally installed by our contractors. We supply and install batten fencing in Perth, Bunbury and throughout South West WA.
Or if DIY is more your thing, why not save money and install it yourself? You can purchase BARR panels, gates and accessories from our online store and have them delivered directly to your doorstep. Our team of Perth pool fencing experts are here to help make the ordering process as simple as possible and can answer any questions you may have about DIY installation.
BARR Batten Fencing in Perth and Beyond
Click Here to View More Fence Photos:
Suburbs We Service in Perth