Who'd have thought that they would discover an original Lysaght Mini Orb fence in a home from way back in the 1900s?
Kameruka, a smallholding about halfway between Dubbo and Narromine, was once declared "one of the prettiest homesteads in the district".
Now, recently, decades after it was built, after 30 some years of dereliction, the building was found in dire need of renovation upon going up for sale.
Half of the roof was missing, as seen on the image to your right. A variety of animals, ranging from birds to cows, had moved in.
The interior walls throughout the home were made from Lysaght Mini Orb. This dates back to when the house was originally constructed over 80 years ago.
Let us make a recommendation for you.
Receive a No Obligation quote on Retaining Plinths and Colorbond Fencing Prices today!
Homestead & Lysaght Mini Orb Renovation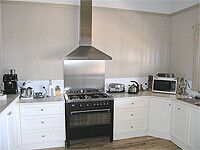 Guess what?
All that it took to make the walls look as good as new was a simple wash down and paint job. The ceilings, which were made from Lysaght pressed tin, were also easily restored.
Amazing.
No doubt, the original Lysaght Mini Orb in the home survived the test of time!
The external coverings have been replaced. The exterior originally also featured Lysaght Custom Orb. Today, new Lysaght Custom Orb in Colorbond Steel clads the home.
A large extension has been added, which incorporates Lysaght Mini Orb throughout the interior walls, chosen specifically to coordinate with the original parts of the house.
Steel Fencing – Strong & Durable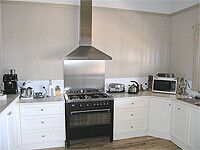 Steel fences provide incredible longevity.
Kameruka homestead was neglected for decades, and yet many of the original steel Mini Orb panels remained in excellent condition after all those years.
With regular maintenance, the lifespan of these products improves significantly.
Modern Lysaght fencing is also produced using Colorbond, in which the colour is bonded to the steel. This provides extra strength and additional protection against corrosion.
Colorbond is widely used because it is strong and durable.
Additionally, it comes in colours and designs that are well suited to Australian properties.
Click Here to View More Fence Products:
To learn more about Lysaght Mini Orb and how Colorbond fencing can be used on your property in Western Australia, Contact TWF Today! We'll provide a free quote on your next project.