Custom Pool Fencing Perth
What's more iconic than a glistening swimming pool in a sunny Perth backyard? With our warm summers and culture of enjoying the great outdoors, a backyard pool is one of the best places to soak up the sunshine with family and friends. When considering a pool for your Perth home, it's essential to think about more than just the design of the pool basin. For safety, you'll also need a
secure pool fence
and decking. Fences and gates are mandatory on all residential pools in Perth as an essential safety measure for homeowners and their families, especially those with young children and pets.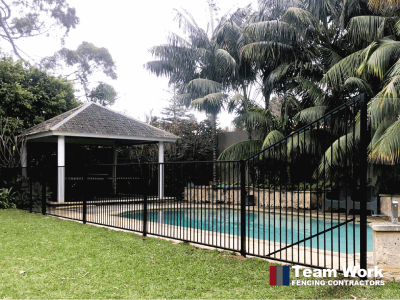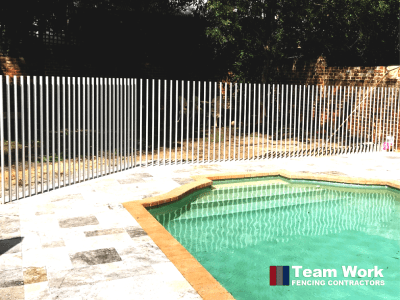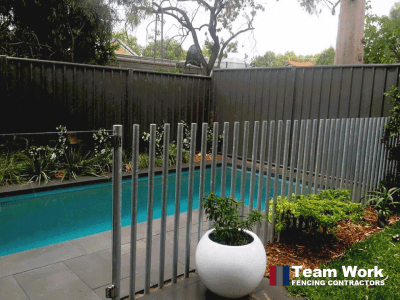 Why Should You Pick Custom Pool Fencing Over Off-Shelf Ones?
Users always prefer customized products, and pool fences are no exception. But is it an intelligent decision to invest in custom pool fences? Are there any downsides one must steer clear from? The below-listed benefits will change your perspective altogether.
Ensures Design Specificity
Custom pool fencings allow you to choose your own design for the enclosure. You can easily mix and match different fencing styles to create a unique look. Although custom pool fencings are a facility for all users, because of their cost, it is usually reserved for high end homes.
You can also select the desired material, whether you wish for something super-durable like aluminum or something which offers strength and durability like hot dipped galvanised steel. Team Work Fencing Contractors can guide you through some of our fantastic designs that we've done in the past to add a unique touch to your space.
All kinds of fencing provide durability in their ideal use cases. For instance, enclosures with locking mechanisms and glass boundaries are suitable for in-house pools. In comparison, outdoor swimming spaces require more strength. Here perf pool fencing reigns supreme but our custom designs can often match or exceed this. By knowing the materials flex, we can create free standing posts in a range of designs that still meet pool compliance and are stronger than the vast majority of pool fence options.
The overall price of the enclosure's design depends on the selected materials and hardware but it is not budget friendly. If you go with plastic, or internal top caps over fully welded ends, it will reduce welding time and therefore cost. But even cheaper materials with internally fitted caps will still exceed $500 per lineal metre due to the amount of labour needed. Custom pool fencing is ideal for buyers looking for specificity in their home that are looking for a feature that is unique.
Pool fencing not only ensures safety but also adds to the property's overall value. Well-bordered swimming pools with that custom look can make your outdoor space very desirable. After all, it's most likely never been seen before with custom colours, design and accessories.
Click Here to View More Pool Fencing
Suburbs We Service in Perth