Colorbond fencing is widely used in both residential and commercial properties across Western Australia because it offers durability, security and privacy, as well as easy maintenance. As a bonus, it is easy to install and comes in a variety of styles and colours.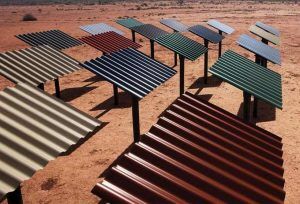 DIY installations are possible with this type of fencing if you are willing to put in the time and effort. However, there are lots of good reasons to hire professional fencing contractors for Colorbond fencing installations in Perth and Bunbury. One of them is cost.
While property owners who choose to install their own Colorbond fence may save some money initially, in the long run a DIY installation can actually end up costing a lot more than you if you had called in professional fencing contractors to handle the job.
With DIY Colorbond fence installation projects in Western Australia, the retail costs for posts, rails, fencing panels and fixing materials may add up to around A$70 per metre. That is, depending on the materials that you use and if you buy from from a large hardware supplier. If you're planning on installing lattice, post caps and other fencing extras, the cost per metre will rise.
The cost of a professional Colorbond fencing installation will vary based on the company that you hire and the specifications of the job. At Team Work Fencing Contractors, the pricing can range between A$70 and A$80 per metre for Colorbond fence installations. It depends on the labour involved and whether Colorbond plinths and other add-ons are required.
Generally, when property owners require a larger Colorbond fence installed on a flat surface, the cost of the installation will be toward the lower end. In cases where a smaller fence needs to be installed on a sloping surface, the cost will typically be higher, as there is extra labour involved. The condition of the soil where the fencing is to be installed can also affect installation cost.
How high is a standard Colorbond fence?
The standard height of Colorbond fencing is 1.8 meters for boundary fencing. For street boundary fencing or for the front of your property the standard is 1.2 metres high.
How high can a Colorbond Fence be?
This depends on your council regulations for which every suburb in WA is different. Your zoning regulations and placement of your property may also be a factor. Team Work Fencing always recommend speaking with your local council when opting for a new fence or retaining wall. As a general guide, you will need planning approval or possibly a building permit when:
Within 4.5 metres of a primary street boundary which is not visually permeable above 1.2 metres above natural ground level.
Higher than 1.8 metres on a street boundary.
Higher than 2.1 metres on a boundary other than a street boundary.
Retaining walls higher than 0.5 metres
Adjoining a Local Reserve more than 1.8 metres in height and located within 6 metres of a street boundary.
Front fences must be truncated or be no higher than 0.75m within 1.5m of where fences and walls adjoin vehicle access points, where a driveway meets a public street or where two streets intersect (i.e. corner lots).
What height does a Colorbond Fencing come in?
At Team Work Fencing we can custom make any height but generally Colorbond comes in the following:
0.9 metres
1.2 metres
1.5 metres
1.8 metres
2.1 metres
How long does a COLORBOND® Fence last?
Colorbond fencing has a warranty of 10 years but as long as the footing of the fence is not compromised and you follow our care guide, the fence should last a lifetime. Correct installation is of course key
Is Colorbond fencing expensive?
Colorbond fencing is one of the cheapest forms of domestic fencing on the market. However, fencing is usually a once in a lifetime decision and care needs to be taken into what is suitable for you. We recommend going through our website and exploring the varies options or talking to one of our experts.
How much does a Colorbond fence cost per metre?
If it is standard Colorbond fencing 1.8 metres high installed into soft ground you should estimate a cost of between $70 to $80 per lineal metre excluding GST. Prices below this you should be weary of as none genuine components could be used or inadequate concrete footings installed to save on costs. Asking lot's of questions is key to ensuring a quality fence is installed to your standard.
How much does a Colorbond Gate cost?
This depends on size, location and more mentioned above but for a single gate between $450 and $550 excluding GST.
What Colorbond fencing profiles are there?
Colorbond fencing sheets can be pressed a number of different ways depending on the manufacturer. If you're looking to match a specific fence you already have on your property we recommend getting hold of us so we can determine who the manufacturer is. Rails, sheets and posts all have diverse looks depending on who made them which can make every Colorbond fence noticeably different.
Is Colorbond Fencing cheaper than Timber?
Yes, Colorbond is cheaper than timber. Timber has its own advantages though and is very popular in the eastern states. In Western Australia such as Perth and Bunbury, Colorbond is generally the preferred option.
DIY vs. Professional Fencing Contractors
Is it cheaper to have Colorbond Fence professionally installed?
In the short term it is cheaper to install the Colorbond fence yourself as you save on labour costs. In the long term, this can end up costing you especially if you lose your warranty due to incorrect install. This should be a lifetime investment that adds value to your property, so you want your fence to look its best.
Overall, there isn't a major cost difference between DIY and professional Colorbond fencing installations. As mentioned, though, when you're doing it yourself, it's easy to make mistakes that can result in problems and significantly higher costs.
Property owners who opt for a DIY Colorbond fencing installation usually do so because they are looking to save on labour costs. What people often do not realise is that even fences that are not incredibly difficult to install can very easily be installed incorrectly, and this can get expensive. Then, the answer to "how much does Colorbond fencing cost" can change rather drastically.
If your fencing isn't installed correctly on your property, it may not provide adequate privacy and security. Moreover, the fence may not stand up to the elements as well as it should, so you may have to repair or replace it much sooner than you would like. Of course, there is also the possibility that it won't be installed perfectly along the property line, which can lead to costly problems.
On the other hand, when you hire professional fencing contractors who have experience with Colorbond fence installations, you don't need to worry about mistakes. Your fence will be installed properly, serving its purpose while offering privacy and security. Because fencing companies use surveyors to mark property lines, there's no chance that you will have to reinstall your fence.
In addition to the above, fencing companies can usually get Colorbond fencing jobs done a lot more quickly than the average property owner, as they have the manpower, tools, and expertise to handle fencing jobs. Also, they can provide invaluable advice.
How long does it take to install a Colorbond Fence?
Depending on the length of your fence, installation can take anywhere from 2 days or more. It is important to follow manufacturer instructions not only for the Colorbond materials but for the type of concrete you use as well. Team Work Fencing aim to have your fence up as fast as possible so as not to compromise your security. Please notify us while quoting if you require temporary fencing during installation.
How do I calculate how much Colorbond fence I need?
Colorbond fencing panels can be bought at different lengths depending on the manufacturer. Standard size lengths are 2380mm or 3150mm however shorter panels are possible. Let Team Work Fencing take care of calculating the amount of materials you need.
How much does it cost to Build and Install a Colorbond Fence?
There are a number of variables that need to be considered when costing a fence which can include:
Length of fencing required
Height of fence required
Soil conditions
Possible retaining requirements
Added extras such as lattice or plinths to close the gap underneath your Colorbond fence
Ease of access
Clearing of fence line including old fences or vegetation
If you're looking for a general estimate we recommend submitting a Request Quote. Otherwise let us schedule one of our professional estimators to come and meet you for a free quote.
Let us make a recommendation for you.
Receive a No Obligation quote on DIY PVC, Colorbond and Timber Fencing Prices today!