Need a new storm damage fence?
A tropical cyclone or strong thunderstorm can be incredibly destructive, causing massive damage to property assets and blowing away everything in its path. Fencings such as HardiFence fences (HardieFence) and Super Six fences are no exception.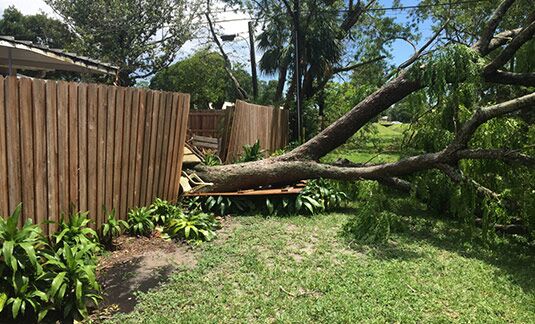 Storms in Australia commonly uproot fences or damage them to the point that property owners must install a new storm damage fence. This is especially common when there is a soil height variation that has not been retained by professional fencing contractors.
Note that HardiFence, Super Six fencing, and Asbestos fences should generally not retain or have any soil pushed up against them. Objects that push up against these types of fences may cause them to snap, particularly with strong winds or stormy weather.
When you've made up your mind to replace a storm-damaged fence at your home or place of business, it is important to select a fence that is durable and secure. You also want a fence that offers privacy and improves the aesthetic value of the property.
5 Reasons to Get a Colorbond Storm Damage Fence
Why Colorbond Fencing Perth May Serve You Best…

1. Colorbond Fences Perform Better in Windy Areas
Colorbond fencing provides more strength and durability than HardiFence in high wind areas, making for a sturdier storm damage fence. Color bond fences are installed in the ground with concrete, so they can withstand thunderstorms and other natural phenomena.
HardiFence fences, in contrast, tend to dislodge during storms, even during mild storms. Because Hardie fencing is held in by the soil and water, it may temporarily weaken with choppy weather conditions, causing the fence to snap in the face of high winds.
2. Colorbond Fencing Installation Is Less Labour Intensive
Contrary to popular belief, Colorbond fences are not expensive. HardiFence actually costs more than Colorbond due to the process of installation. Installing Hardie fences is labour intensive since they need to be burrowed into the ground at a depth of 600 millimeters.
In the case of Colorbond fence installation, holes are only dug where the posts go in, making the installation process a lot less laborious. Labour requirements aside, Colorbond materials have dropped in price over the years, while HardiFence has remained pricey.
3. Colorbond Products Come in Various Colours and Styles
Unlike Hardie fences, steel Colorbond fences are available in a variety of Colorbond fencing colours. This makes it possible to coordinate the look of your storm damage fence with the shades of your property. There are over a dozen colours to choose from.
In addition to the many colour options that come with choosing Colorbond steel, there are numerous fencing patterns to select from. These styles include saw tooth, harmony and trimclad. In comparison, HardiFence fencing only offers one fencing profile.
4. Colorbond Steel Fencing Resists Corrosion and Rotting
Fences made from Colorbond are not subject to rot or corrosion like other types of fencing, as they are manufactured using quality steel. Since they are made from steel, you'll also never have to deal with destructive termites eating away at your fence.
Heat and fire resistance is another good reason to choose Colorbond. Tested in harsh Australian conditions over half a century, Colorbond steel offers high-level fire protection. Perfect if you need a storm damage fence in a bushfire-prone area.
5. Colorbond Fences Normally Come with a Warranty
Every Colorbond fence by Team Work Fencing (and other companies) comes with a 10-year warranty. The warranty covers corrosion, perforation and natural wear and tear, as well as peeling and flaking. You get a Colorbond fencing installation warranty, too.
Because Hardie fences are prone to getting blown away during storms and extreme weather, companies don't normally issue any sort of warranty to customers. Many insurers actually advise their customers to choose Colorbond over HardiFence.
Click Here to View More Fence Products:
Hire Professional Colorbond Fencing Contractors
The price of steel has fallen in recent years. As a result, Colorbond products have come to dominate the fencing industry. However, it's not just the attractive price point that has made Colorbond Australia's top-selling fence. There are many Colorbond fencing benefits.
Fencing in the Colorbond range offers good looks and high durability. It's also easy to maintain, offering advantages over HardiFence and other fences. Overall, Colorbond makes for a sturdy storm damage fence that enhances the appearance of your property.
With Colorbond fences, though, it's important to hire fencing specialists – professionals experienced in Colorbond installations. This way you won't lose your product warranty and can rest assured that your fence will stand strong and look great for years to come.
Let us make a recommendation for you.
Receive a No Obligation quote on DIY PVC, Colorbond and Timber Fencing Prices today!