Fences are a vulnerable fixture on most properties and tend to cop the brunt of bad weather, falling branches, vandalism and other accidental damage. For this reason, knowing where you stand regarding insurance cover for your fence is important.
Our team completes work for fencing insurance claims in Perth almost daily, and we tend to hear the same questions arise when it comes to making a claim. So whether you're researching before taking out an insurance policy or in a situation where you need to file a home insurance claim, we've answered some of the fencing insurance questions we receive while on the job.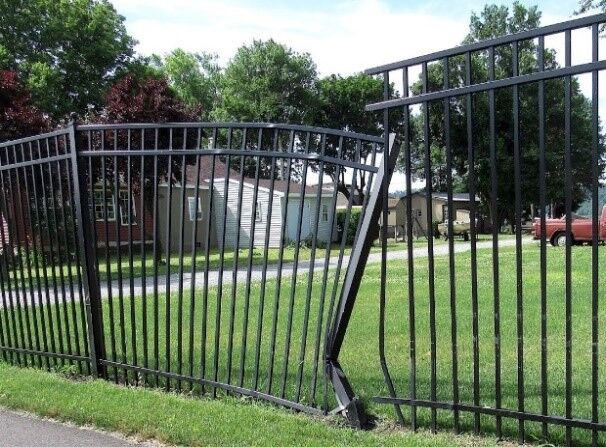 Insurance Cover for Fence Damage – Frequently Asked Questions
1. Does home insurance cover fences?
Usually, yes, as your fence is considered a permanent fixture on your property. However, there are some instances where you may not be covered. For example, insurers will consider the cause of the damage, the nature and identity of the guilty party and the location of your fence. Some insurers may also only cover fences that are under a certain length.
If you qualify for a claim, your coverage may be capped at a certain percentage of the total coverage of your policy, so always check the fine print.
2. When isn't fence damage covered by insurance?
A few types of fence damage probably won't be covered by your home insurance. These can include:
Damage that results from general wear and tear. This is most common in timber fences that are susceptible to damage by water, mould and termites.
Damage that occurs due to negligence. This might include landscaping mishaps, damage from unhealthy trees on your property that have been ignored, or if you accidentally hit your fence with your car. If someone else hits your fence with their car, this is usually covered – we'll provide more info on this later.
Damage from natural disasters or events that are excluded from your policy. If you live in a flood, fire or earthquake-prone area, fence damage from these natural disasters might not be covered by your policy. It's best to check with your
3. What Can You Do If Your Fence Damage Isn't Covered?
Unfortunately, if your insurance policy doesn't cover your fence damage, you'll need to pay in full for repairs or replacement. This is why it's vital to do everything you can to avoid damaging your fence!
Some tips for preventing damage include:
Frequently pruning nearby trees
Removing and securing trees and structures that are at risk of falling on your fence
Examining your fence for weak points regularly and rectifying them accordingly
Keeping up with regular fence maintenance.
And of course, the most crucial step to avoid future damage to your new fence is to start with solid, secure installation from professional fencing contractors. DIY installation may save you money in the short term, but it can cost you a lot more further down the track if it's not completed to a high enough standard.
4. What about when you're just renting the home?
If you're renting, your landlord is responsible for ensuring your fences are intact and maintained, and their home insurance should cover them for most forms of damage. The only exception is if you as the renter (or your guests) have caused damage to the fence, in which case you will be liable for any costs associated with repairs or replacement.
If the fence at the property you're renting has been damaged, always contact your landlord or property manager promptly to organise repairs.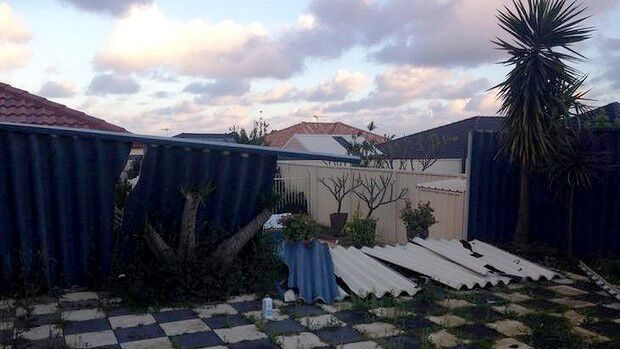 5. How should you handle a shared fence insurance claim?
If your shared boundary fence (the fence that lies on the property line between your property and your neighbour) has been damaged, both property owners will need to file a claim with their insurers. Each insurance company will pay 50% of the cost of repair or replacement. This can be a fairly straightforward process with clear, prompt communication between both property owners. You'll need to make a joint decision regarding replacing your fence to ensure it suits both parties.
If the damaged fence sits entirely on your property, you should file a claim for 100% of the repairs. Likewise, if the fence in question sits entirely on your neighbour's property, they should file a claim.
6. If my neighbour damages my fence, whose insurance will cover the repairs?
If your neighbour is the one who damages your shared fence, they will be liable for the cost of repairs or replacement and should claim with their insurer.
7. Someone hit my fence with their car – who pays?
Your home insurance will usually cover you if a driver hits your fence; however, it makes more sense to claim with the driver's car insurance instead. Since they're at fault, they should claim through their vehicle insurance and pay you for the fence damages – it's where their policy's property damage clause comes into play.
If the driver doesn't have vehicle insurance or can't pay for the fence damage, this is when you should file a claim with your home insurance. Keep in mind that you'll need to pay any excess, and your premium may rise in future due to making a claim. This is why it's always best to try and claim through the driver's insurance if possible.
8. How do you go about filing a claim for damaged fences?
The process varies depending on the fence's location and if you share it with a neighbour.
For a shared fence, your insurance will usually cover 50% of the cost of repairs or replacement. The other 50% will be covered by your neighbour's insurance. Therefore, you should both contact your insurers promptly to lodge a claim. You'll receive a cash settlement for your share of the fence. Then, you'll need to communicate and negotiate with your neighbour to organise repairs or agree on the new fence to be installed.
For a fence that's only on your property, you should contact your insurance company to lodge a claim. You'll receive a cash settlement to cover the cost of repairing or replacing your fence.
In both scenarios, you'll need to contact a fence company for an insurance quote during the process, so your insurer knows how much to pay you. Team Work Fencing can help with providing insurance quotes and completing any repairs or new fence installations – contact us today.
9. Does homeowners insurance cover fences that are blown down in a storm?
10. How often do homeowners insurance companies cover blown-down fences?
In most cases, your insurance will cover you if your fence is blown down in a storm. Check your insurance PDS (Product Disclosure Statement) to be sure, or contact them directly.
11. How do you find a local fence contractor to assess and quote the cost of a fence repair or replacement for your insurance company?
Team Work Fencing is your go-to fencing contractor for insurance claims in Perth and the South West. We'll visit your property to assess the damage, make recommendations for either repair or replacement and provide a quote. Once your claim is approved, you can rely on our experienced team to rectify your damaged fence in a timely manner and to the highest standards.
Looking to repair or replace a fence? We do professional fence repairs and installations across Perth and the South West. Call us on 08 9450 1626 (Perth) or 08 9795 3447 (South West), or complete our contact form and we'll be in touch shortly.
Please note that this blog contains general advice only. You should contact your insurer or insurance broker for details specific to your situation.
Looking to repair or replace a fence? We do professional fence repairs and installations.
Call us on 08 9450 1626 (or 08 9795 3447) for more info. Alternatively, you can request a fencing quote.
Let us make a recommendation for you.
Receive a No Obligation quote on DIY PVC, Colorbond and Timber Fencing Prices today!