When you have a Colorbond fence that requires a retaining wall system, there are many good reasons to hire reputable retaining wall contractors that can install it professionally. However, it is possible to build the wall yourself if you have budget restraints or feel inclined to take on the project.
Start by asking yourself the following questions. What is a retaining wall? How much does it cost for a retaining wall? What are your retaining wall options? Of course, you will also want to thoroughly investigate how to put up a retaining wall under a Colorbond fence. You can begin right here.
In this blog post, you will learn how to build a retaining wall step by step. For the purpose of simplicity, the basic retaining wall construction guide below is based on installing a 0.6-metre-high retaining wall using Ally Wall or GramLine plinths for use in conjunction with Colorbond Fencing.
Note: The information in this blog post is intended for use as a guide only.
How to Install a Retaining Wall in 5 Steps
Step 1: Gather Materials & Set the Line
Acquire the materials needed for this project after studying how to build a retaining wall. You will need:
Galvanised steel posts for added strength using either 76 x 38 x 1.6mm or 65 x 65 x 1.6mm by 3.1m long if going 600mm high
Colorbond posts 3m long
Concrete (minimum grade in post holes to be 25MPa)
Ally wall, Gramline or similar retaining panels
Colorbond rails
Colorbond sheets
Metal Tek Screws
Backfill material if needed
Ground pegs and string line for marking posts and fence line
Now, your first task is to set the line before digging holes for the posts, marking where your corner/end posts will be positioned. You can do this using a string line to ensure correct alignment. Set the ground pegs about 500mm at each end of the retaining wall and then connect. With a sharpie, mark on the inside of each Colorbond post the position of your bottom rail which will correlate to the height of your fence and the height of your retaining wall (I.e for 600mm high retaining wall, mark 600mm below your bottom rail mark). These markings will help establish a guide when installing.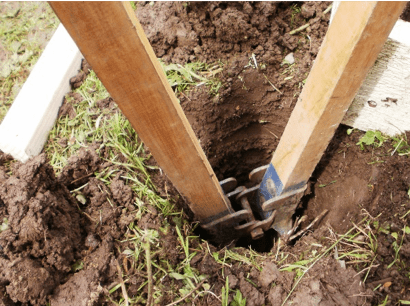 When your setup for the installation is complete, it's time to dig post holes that are suitable for fitting the steel Colorbond retaining wall posts. This can be done using an auger drill for boring holes after checking soil consistency or a post hole shovel.
Starting from your end post, insert the bottom rail into your Colorbond post to determine the exact location of the next post and dig a hole. The post holes into which your posts will be placed should have a diameter of 200- 300 millimetres, with 100 millimetres of concrete cover below the posts. The depth of the posts in the ground should match the height of your sleeper retaining wall and the 100 mm of concrete below.

Step 3: Align & Install Posts
Insert posts and align with a spirit level. Fix Colorbond bottom rail to your mark and fix the Colorbond top rail 2mm above the top of the post to reduce sharp edges. Continue this procedure until fence length is achieved. The rails will form a frame, helping to stabilise the retaining wall posts during concrete pouring. Pour concrete into the holes and level.
Once your posts are installed, the footing hole can be lightly compacted to help stabilise the soil around it.
Step 4: Install Colorbond Plinths (Wall)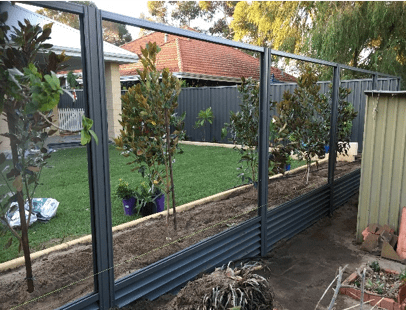 You will need to install Colorbond plinths after your concrete has cured (allow to set for 19+ hours). These can be Ally Wall plinths or GramLine plinths. Both are good options for most types of Colorbond retaining wall systems. Remember that the maximum height this system has been tested to is 600 mm in height.
Place your first steel plinth into position and check the alignment. Packing material may be required to ensure that the plinth is level. The first plinth will rest on the concrete surface, just below ground level. You can then add your remaining Ally Wall or GramLine plinths using your marks as a guide.
The last step involves backfilling behind your retaining wall. Generally crushed recycled concrete, gravel or clean sand for backfill is good as it will help drain excess water. You need to ensure your Colorbond bottom rail is approximately 50mm off the ground to prevent rust. Continue by hosing down the sand along the wall. This will aid in compaction.
Proper drainage is important. It if goes unaddressed, hydrostatic pressure can build up and cause bulging, cracking and other types of damage, calling for retaining wall repair. You may want to consider calling in a professional plumber to determine if soak wells are needed.
Ally Wall and GramLine are designed to handle soil loads behind retaining walls. They are not designed to handle additional loads from the placement of heavy equipment or machinery. Thus, it is recommended that no added loads be placed within 1.2 times of your wall's edge.
In the case of laying paving stones, where the backfill must be mechanically compacted by someone who knows how to put in a retaining wall and has the necessary equipment, props should be used at the post points. Two props should be used between panels and one on each post during the compaction process.
Building Approval & Certification
Local authorities typically don't require building approval or engineering certification for retaining wall construction up to 0.6 m high. Many WA councils have changed this to 0.5 m high, though and may depend on your zoning. Retaining walls within 1.0 m to a building or connecting property will normally require approval regardless of the height.
Before you build or install your retaining wall, check with local authorities. Special designs may be needed, depending on post spacing, wall height, slope steepness, soil conditions or your exposure to weather.
Not up to handling your Colorbond retaining wall construction yourself? Our Bunbury and Perth fencing contractors are retaining wall specialists. Give Team Work Fencing a call today or get a free quote here.
Let us make a recommendation for you.
Receive a No Obligation quote on DIY PVC, Colorbond and Timber Fencing Prices today!