With so many options available for fencing in Perth, it can be challenging to decide which is best for your home. However, it's worth comparing all your options; after all, a fence is something you (and your neighbours) will be looking at every day! So we've weighed up the pros, cons, costs and features of
Colourbond
,
timber
and
PVC fencing
panels to help you choose a fence you'll love for many years to come.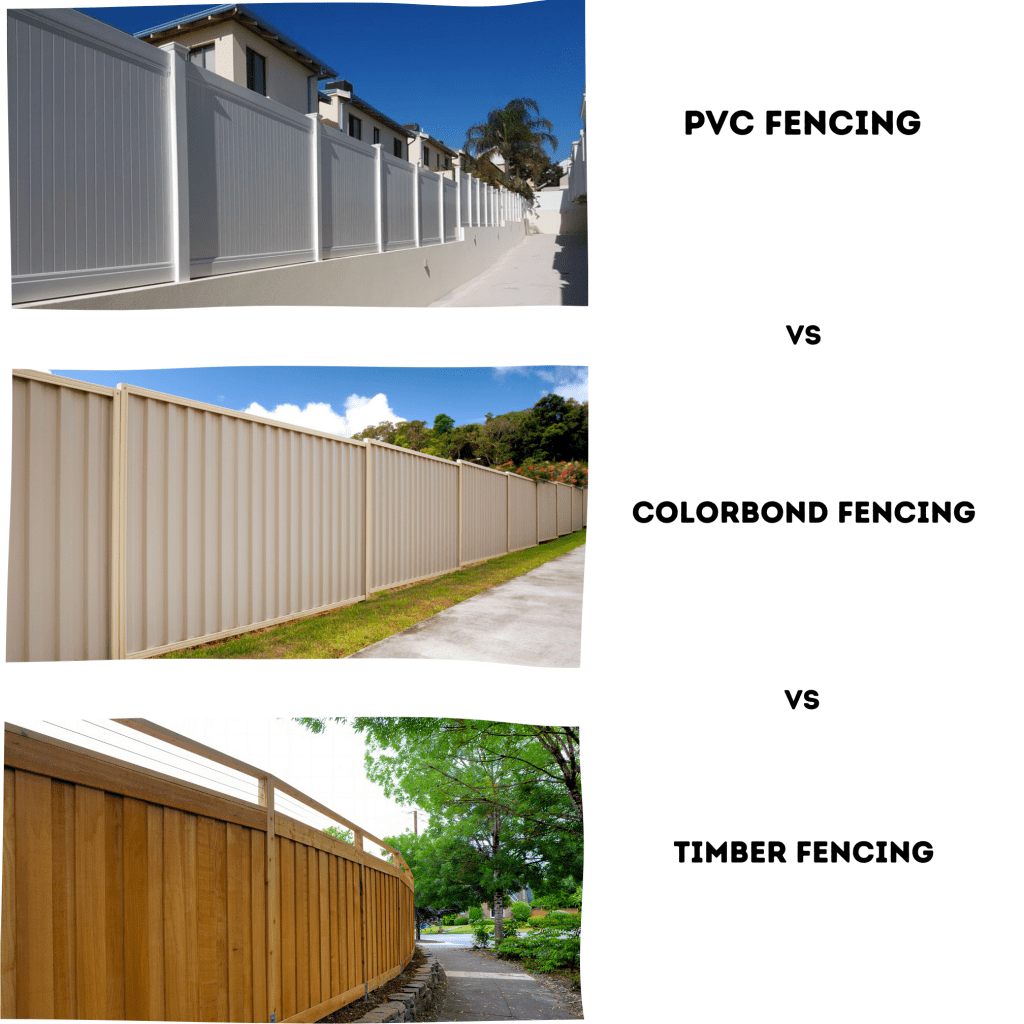 PVC Fence VS Timber Fence VS Colorbond Fence
First and foremost, you must consider what purpose your fence needs to serve. Is it intended to provide full or partial privacy? Do you need to keep pets and children inside? Is your fence purely decorative, or do you want to create a visual boundary?
Durability should also be front of mind when choosing a fence. You need it to withstand the weather and the test of time. If you've ever lost a pet after your fence has blown over in a storm, you know just how important this is. Obviously, you can't always avoid fence damage during severe weather, however there are more durable options available. And, of course, you want to avoid the hassle and cost of repeated repairs.
If you're weighing up Colorbond vs timber, PVC fencing vs timber, or PVC fencing vs Colorbond, we're here to help. Now, let's dive into the pros and cons of each.
10-year warranty on materials.
30-year warranty on materials.
Colorbond is extremely cost effective. Starting from $85 per metre.
PVC fencing starts from $120 per metre.
Timber can vary with design and type of timber.

Pine is the most cost-effective option but hardwood like Jarrah is the most durable.
Susceptible to scratches, colour fade, dents, and corrosion (especially near water or oceans).

Termite resistant.
Susceptible to scratches and can crack if hit.

Does not corrode or fade.

Strong and flexible enough to withstand Perth's windy conditions.

Termite resistant.
Can warp if not maintained.

Susceptible to termites if not treated regularly.
Five different profile options to choose from, with the option to add slats or a lattice feature on top.
A range of semi-privacy styles, including classic or modern picket. Privacy PVC fencing can be customised with a range of lattice designs on top. (
Modern and traditional PVC fence
)
Limited colour range. Mainly white currently but new colours coming soon.
Can be left natural, stained or painted any colour you desire.
Sturdy, lightweight steel coated with baked-on lead-free paint.
Polyvinyl chloride (also known as PVC), a long-lasting type of plastic.
Natural, treated, or painted wood.
Colorbond can have added retaining underneath with steel or aluminium plinths to match the fence. (
Colorbond Plinths
)
Retaining can be built alongside it though, in the form of concrete post and panel.

PVC can also be built on top of limestone retaining.
Timber plinths can be placed underneath the fence.
Should be spot cleaned and washed down occasionally to prevent staining. Otherwise, no maintenance is required unless damaged. (
Colorbond fence maintenance
)
Should be washed down occasionally. Otherwise, no maintenance is required unless damaged.
Requires yearly maintenance and termite treatment.
Low maintenance like PVC Fencing
Low maintenance like Colorbond Fence

Stylish look like painted timber fencing
Stylish look like PVC Privacy Fencing
Backed with a 10-year warranty
Requires little ongoing maintenance
Large range of colours
Termite resistant
Budget-friendly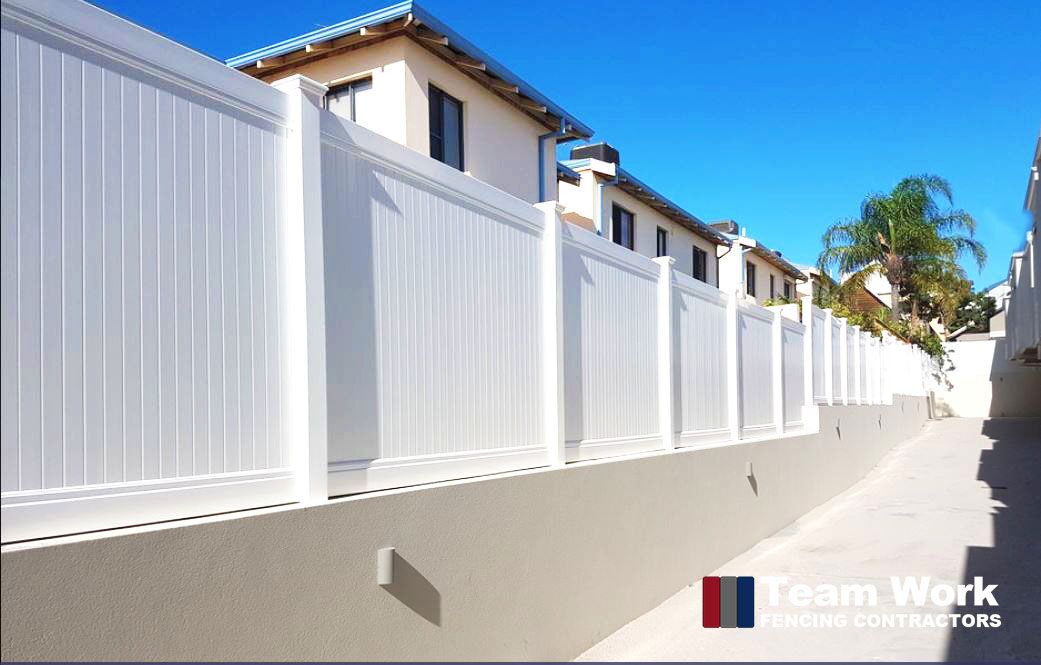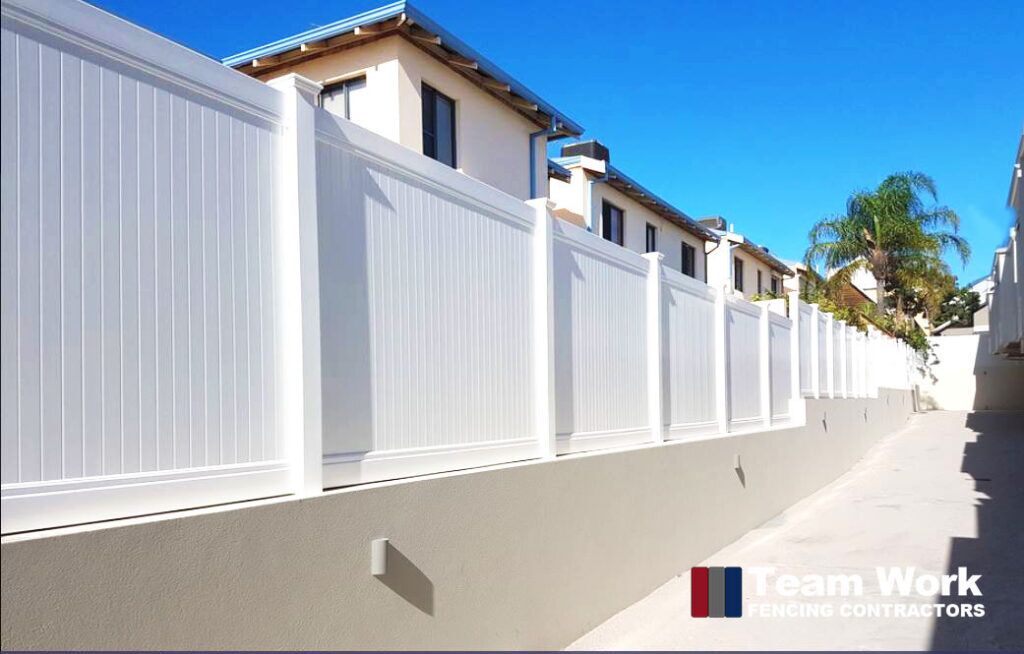 Backed with a 30-year warranty
Requires little ongoing maintenance
Resistant to termites
No corrosion and fading
Good for coastal areas
Strong yet flexible, great for Perth's windy conditions
Budget-friendly DIY option available
Unlimited options for paint colours
Great for creating a natural or rustic look
Natural, sustainable and eco-friendly materials
A Breakdown of Costs: Which Fence Is Cheaper?
When it comes to choosing a fence, it's essential to consider the immediate cost as well as maintenance costs over the years. For example, even though PVC fence panels are a more expensive option, it is the most durable fencing material and requires little maintenance after installation. Sometimes it is worth investing a little more upfront, so you don't have to worry about costs further down the track.
Colorbond vs Timber Fence Pricing
For a privacy fence, Colorbond fencing is cheaper than a timber fence and requires a lot less maintenance. While the natural look of timber is beautiful, keep in mind that it will require annual maintenance and termite treatments to keep it in good condition.
Team Work Fencing install Colorbond fencing from $85 per metre, while our timber privacy fencing starts at $120 per metre.
PVC Fence Panels vs Timber Fence Pricing
PVC fencing is usually cheaper than a wood fence if you look at long term costs. Both timber and PVC fence panels will cost from $120 per metre to install; however, you'll need to factor in that a timber fence requires more ongoing maintenance.
Team Work Fencing Price Comparison
Timber Privacy Fencing – from $120/lm
PVC Fencing – from $120/lm
DIY PVC Fencing – $80/lm
Colorbond Fencing – from $85/lm
Is DIY PVC Fencing Cheaper?
PVC fencing in Perth is becoming a very popular option thanks to its sleek design, durability and low maintenance. However, it can be pricey compared to Colorbond. So if you love all the benefits of PVC fencing but are on a budget, why not put a weekend aside and install a DIY PVC privacy fence yourself?
A DIY PVC fence costs from $80 per metre, depending on the style you choose. This is considerably cheaper than paying for installation, which pushes the cost up to $120 per metre or more.
All you need to complete the installation is a sketched plan with measurements, a shovel, your PVC fence panels and a notcher (can be supplied by Team Work Fencing). If you're hanging gates on your DIY PVC fence, you'll need a drill or rivet gun too.
Read more about DIY PVC fencing, or request a quote.
Let us make a recommendation for you.
Receive a No Obligation quote on DIY PVC, Colorbond and Timber Fencing Prices today!